What we have here is one of two bestselling skincare dupes from Missha. This toner, the Time Revolution First Treatment Essence, is a copy of SK-II's Facial Treatment Essence. The other popular dupe is Missha's Night Repair, which copies Estee Lauder. There very well may be more, but those are the only two that I know of. I can't speak for everyone, but this toner did a lot of good to my skin!
This review is kindly sponsored by Honest Skin. Thank you Honest Skin!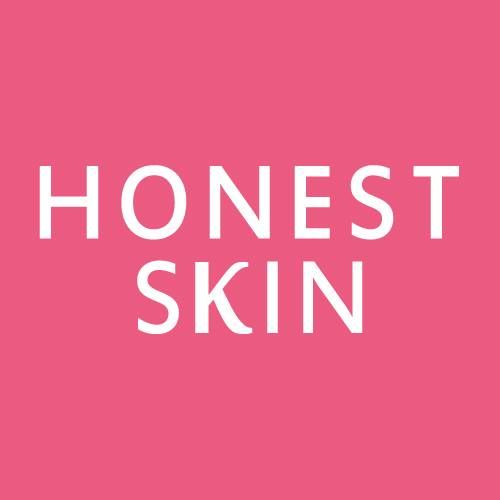 --------------------




Brand: Missha
Name: Time Revolution The First Treatment Essence
Amount: 150mL
Actual Weight: 410g
Price in Korea: 42,000KRW
Price on Honestskin: $44.85 (Use my discount code "P88FIHW163" for 5% off!)
Ingredients:
saccharomyces ferment filtrate, propanediol, glycyrrhiza glabra (licorice) root extract, niacinamide, polyquaternium-51, bifida ferment lysate, amaranthus caudatus seed extract, raffinose, ulmus davidiana root extract, pentylene glycol, piper methysticum leaf/root/stem extract, glycerin, beta vulgaris (beet) root extract, hydrolyzed corn starch, centella asiatica extract, portulaca oleracea extract, phenoxyethanol, chamomilla recutita (matricaria) flower extract, rosmarinus officinalis (rosemary) leaf extract, phellodendron amurense bark extract, cassia alata leaf extract, tromethamine, water, adenosine, ethylhexylglycerin, hydrogenated lecithin, acetic acid, lactic acid, sodium hyaluronate

It comes in a (somewhat) reflective box: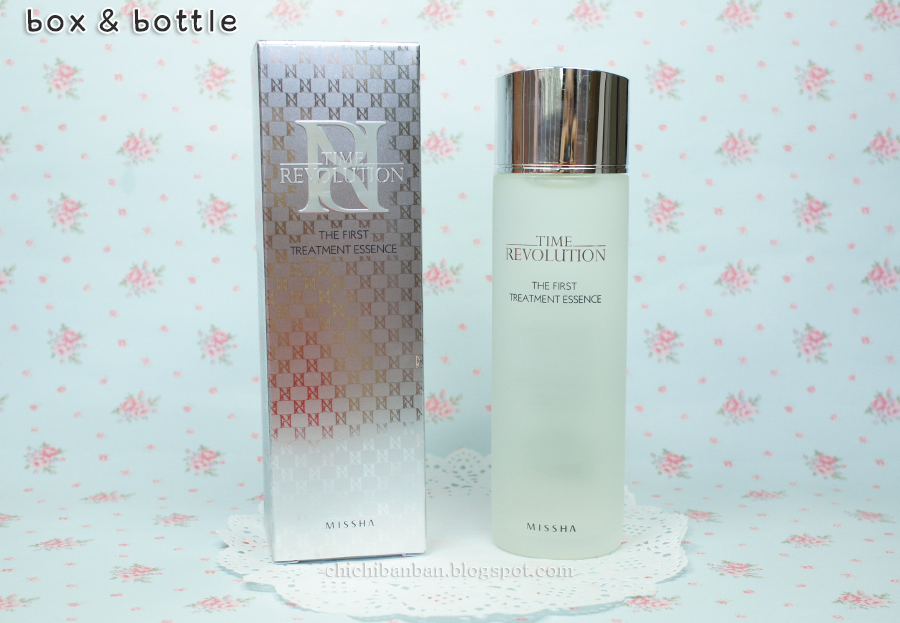 Information + Directions Closeup: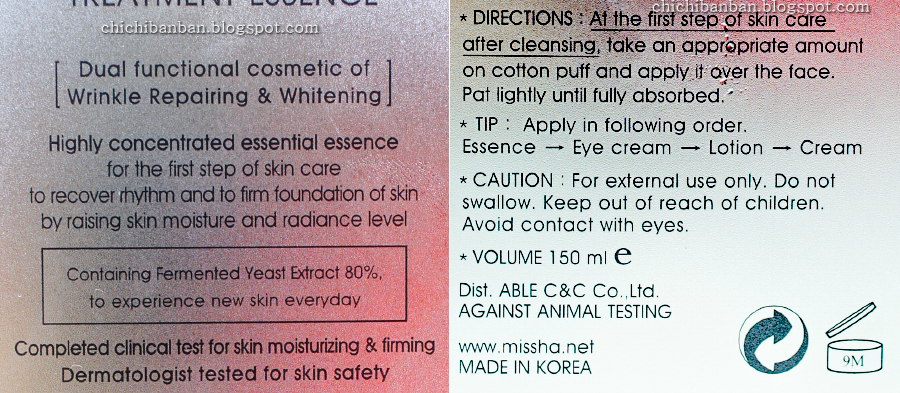 The bottle itself is quite large. It's made of thick, sturdy glass: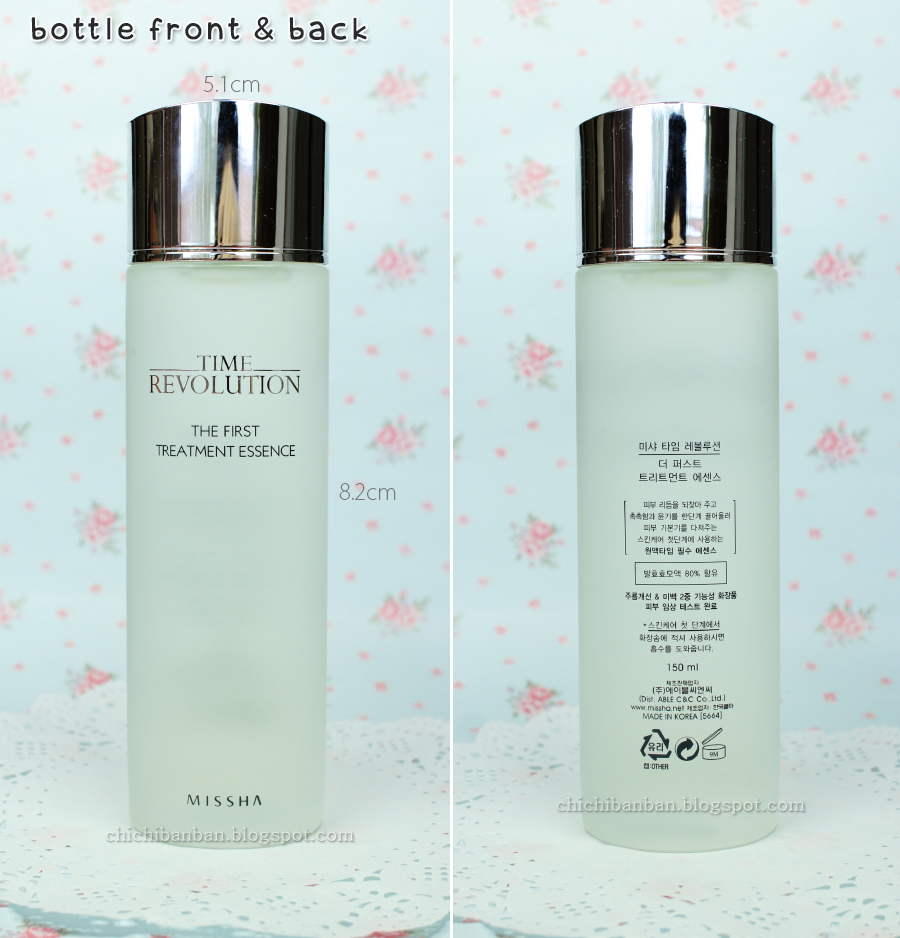 Notice the expiration: 9 months!
The opening is but a hole:
It also included a small brochure, which I've scanned if you're interested. The content seems quite fluffy (vitality! fision yeast! radiance!), but the product map can be enlightening in regards to Missha's various product lines!
You can click to make it bigger.

It's a clear liquid. And as odd as it sounds, it smells like ballpoint pen ink. I only notice it when I'm putting it right up to my nose, though.
The consistency is
very
thin. Think water:

I unfortunately don't have any photos to show, BUT please hear me out, for I did take notes! FYI, I used this toner in the morning and at night. At night I applied it via lotion mask (soaking cotton pads and placing them on your face for 3 minutes.)
Summary:
It brought my skin from slightly dry to normal. I was no longer dry and rough. My skin was softer and retained moisture much better. For details, read on!
Before: At the time of starting, my skin was slightly dry—no major flakes or anything, it just didn't feel supple—and somewhat oily on my nose. Basically, it was a slight case of "oily on top but dry underneath." My skin was a little rough.
First few days of using: The first morning, I woke up less oily than I typically do. Normally my face would be oily all over. After rinsing, though, my face went back to normal. By the second day, my skin withheld moisture throughout the day a little better. I was still dry overall, but the minor flaking around my eyebrow area wasn't visible. And with each passing day, my skin became gradually softer—albeit, still rough, but I felt a small difference!
1 week: About a week in, I realized the difference. My skin felt softer than before, and it actually retained moisture, as opposed to feeling greasy on top but dry underneath.
1 week 1 day: My skin felt baby soft in the morning. The moisture of whatever lotions I applied could be felt immediately, and my skin remained soft and moist throughout the day. I was no longer dry; my skin felt "normal"!
2-3 weeks: I will admit that my skin went a little downhill after that. Perhaps those couple days were a fluke? My skin was still soft and moisturized compared to before (I no longer had evidence of dryness), but it wasn't quite baby soft. My nose even started getting a little oily. Overall, 2-3 weeks was simply maintaining the improvement.
Currently: Currently, my skin is extremely dry and irritated—not due to this product, but from others I recently tried. (This is actually the reason I don't have before and after photos; my after photos are skewed by the irritation.) Anyways, at this degree of dryness and sensitivity, this toner has not been able to help much in terms of soothing and moisturizing.


Update #1 8/12/14:The irritation has blown over and my skin is no longer red or inflamed, and I'm happy to say that my skin texture is still very soft! I don't have much oil production, but my skin doesn't feel dry, either. So far so good!


Update #2 8/29/14: I've continued to use this and my skin is still very soft texture-wise. However, my skin produces no sebum anymore. It's almost getting dry. Before using this, my skin was oily and rough. Now, it's very soft but also a bit dry. It's almost as if this toner is too moisturizing and I'm not producing my own sebum anymore! I'm going to dial back and use it once a day, see how that goes.


Update #3 9/7/14: After using it only at night, my skin is now producing a bit of its own sebum again, yay~~ It's far from oily, but it's not dry and completely sebumless like it was in Update 2. My skin is still soft, especially when I wake up in the morning (possibly because I apply it at night.) I'm very happy!

I really like it! It's a very lightweight texture and doesn't cause me to break out. I was very happy with the improvement I saw. It not only hydrated my skin (thereby eliminating dryness), but it also softened my skin noticeably. My skin definitely feels different than it used to—and not just right after I apply it, throughout the day as well.
Would I buy it again with my own money? Quite possibly. I know it's a little costly, but given that my skin is currently not doing too well, and I was impressed with the results, I'm willing to shell out a bit more. The reason I only say "possibly" is because I'd first like to try out other toners within the same price range. But other than that, it's very likely I will repurchase this!
Thank you again Honest Skin!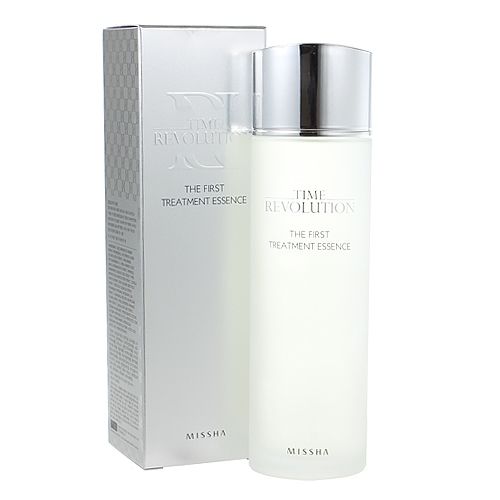 Please remember that these are just my own experiences with the product. If you've also tried this product (or any other toner you've really liked), feel free to share your experiences!