Yesterday I hung out with my friends Bory and Joanne. Now, I promised I would avoid posting crappy phone photos on my blog at all cost, but I have to make an exception! I always have so much fun with these two,and I ended up taking way too many photos to
not
write about it in my diary!
순대 for Dinner:
We met up in Shillim and ate 순대 (sundae) for dinner. They've taught me that Guri is famous for 곱창 (gopchang) and Shillim is the place for sundae!
The restaurant had a large, open, cafeteria-style interior. The ajummas that worked there were very attentive and friendly…and almost auntie-like! For example, they put their hands on our backs as they somewhat forcefully—but still kindly—ushered us to our seats. My friends even called out "Aunt" instead of "ajumma" whenever we needed something!
They also said I looked like a doll/barbie, so that made me happy~~
Sticker Photos:
After a fulfilling meal, we took sticker photos! We went to a place called Ulzzang (because it was 1+1, kkkkk). But sadly, our sticker booth didn't ulzzangify us at all.
I've yet to find a sticker booth that bulges eyes; none of the ones I've been to did... :<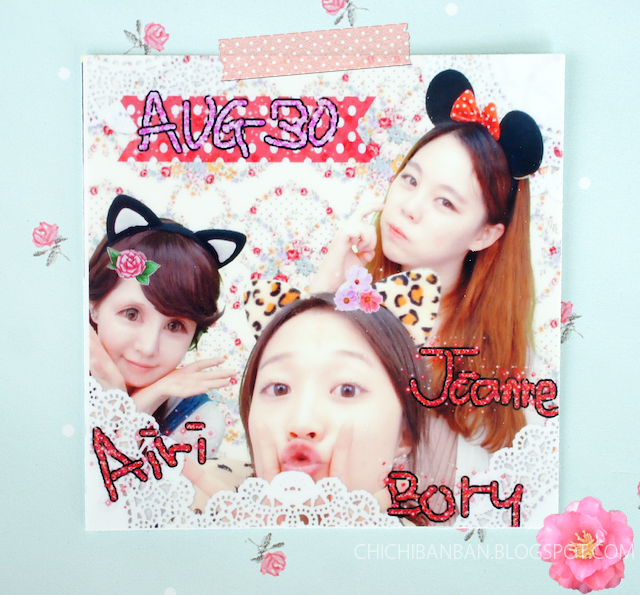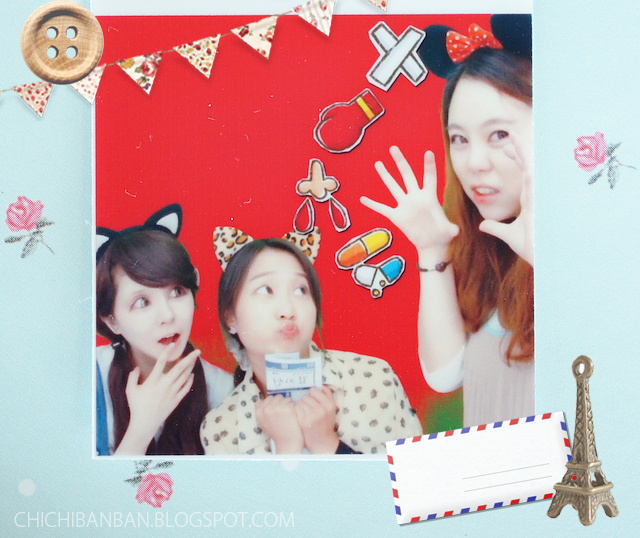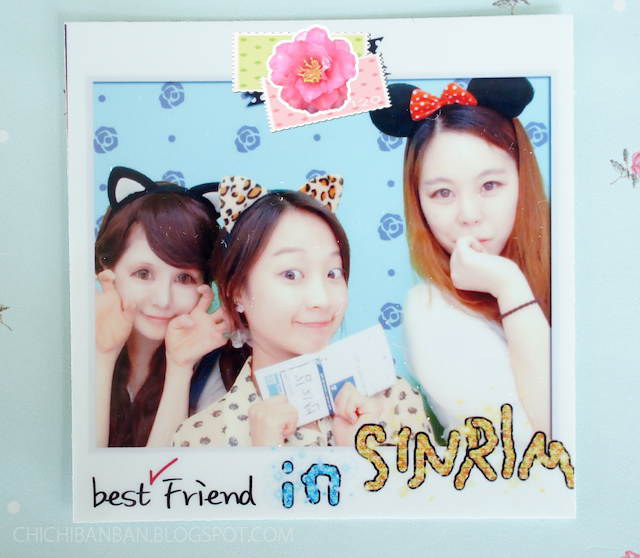 My friends are so animated and comical when it comes to sticker photos! I couldn't keep up >.<
Curious about how the ulzzang craze in the west compares to Korea, I asked my friends how most Koreans feel about ulzzang. They replied that some middle and high schoolers may be obsessed about it, but most everyone else doesn't pay that much mind. It's mostly the work of photoshop, anyways! (And I don't mean that in a criticizing way, just as a matter of factly!)
Melon Bingsu:
After playing rock, paper, scissors to decide how to split the photos, we headed over to Lga Coffee for melon bingsu! I hear Lga is famous for their unique melon bingsu.
[Warning: If you are easily disturbed by cramped circles, beware of the following pictures! It's not too terrible, but I myself was even disturbed when I saw photos of the bingsu for the first time.]
Presenting…the infamous melon bingsu!
Topped with vanilla ice cream, the shaved ice is covered with round carve-outs of melon. The whole thing rests inside the carved melon itself! Those colored pieces are tiny bits of chocolate, similar to M&Ms! It also came with a side of red bean sauce.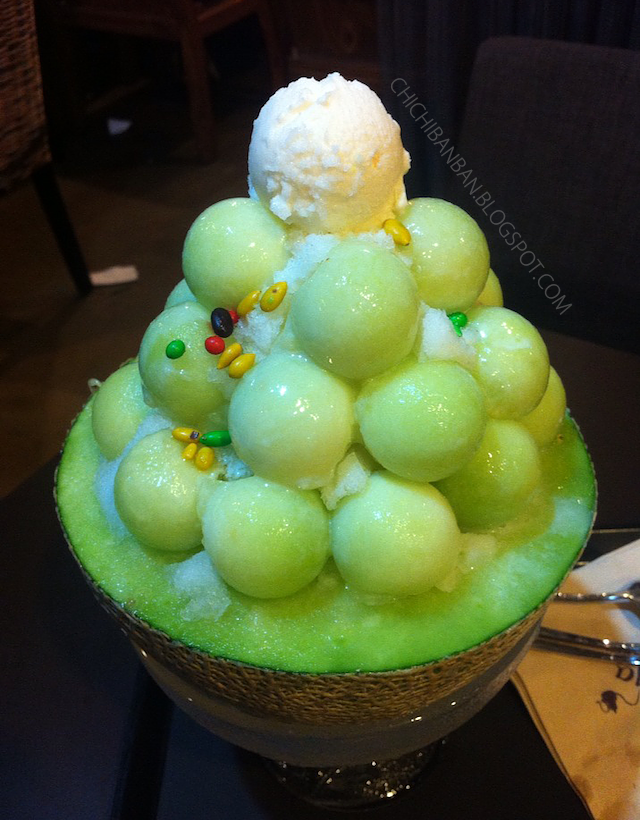 It is customary to take pictures of and with your food and friends: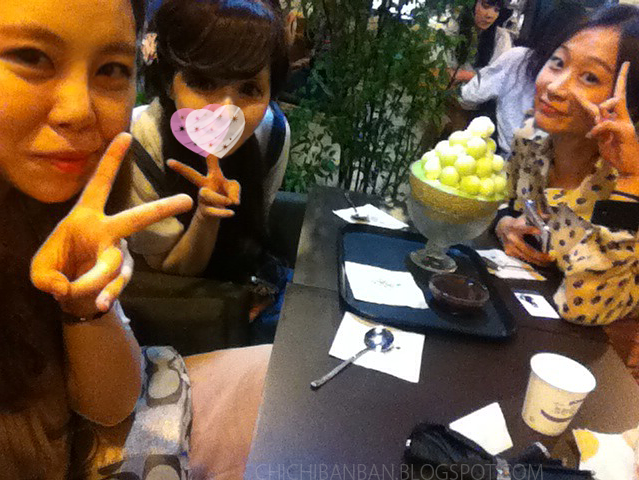 (left to right: Joanne, me, Bory)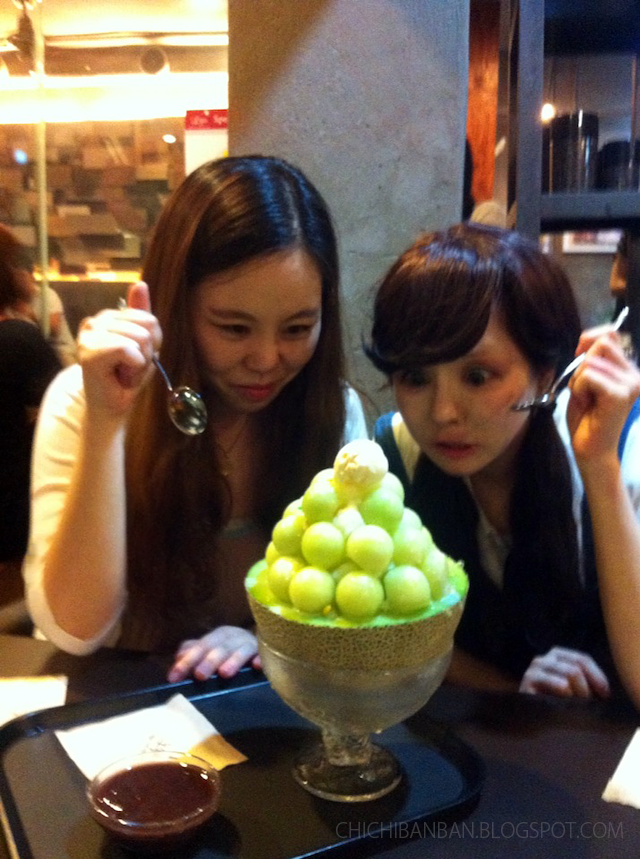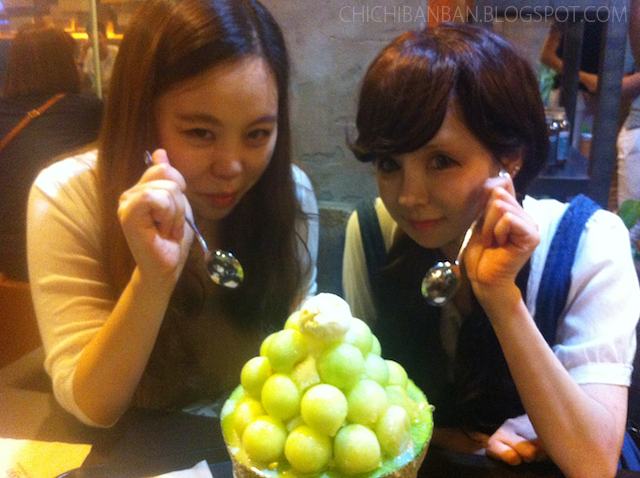 After watching me take the following "unique" selca shot, my friends were inspired and both chimed, "Oh, I want to too~!" and they followed with the same pose.
Needless to say…I am particularly proud of this picture for that reason…
Heehee~ We actually looked hilarious taking those selcas though, if you can imagine it...
After about 5 minutes of selcas and pictures, we
*finally*
dug in! Upon devouring most of it, we were left with a milky slush. Sipping it with spoons was terribly messy and sticky…but then we decided to use straws! +_+ Smart, smart, we are kkkkkkk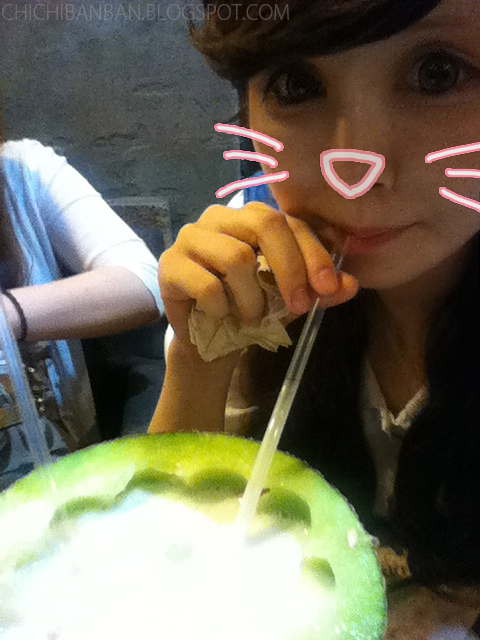 There ended up being a
super
long wait after we arrived. Imagine that! A 30 minute wait for bingsu! Having sat right at the entrance, we felt a little faceless when we lingered afterwards to chat ㅋㅋㅋㅋㅋㅋㅋ But thankfully I was back-faced towards the queue, but Bory not so much!

Behind us you can see one of the many who were waiting~
All in all, I actually wouldn't say the bingsu was SUPER delicious, only because the melon wasn't that sweet! But it was fun and worth trying anyhow!
It's always a treat to hang out with Bory and Joanne. Fun girls! Also, my sister is arriving in Seoul today! I'll be off to pick her up later this afternoon. Other than that, a review and some café posts to come soon! (This time with HQ pictures!)
Tomorrow is Monday already? Oh, sad revelation! The weekend is just too short! Off I go! Enjoy the rest of your weekend; toodle-doos!