May 7th marks the beginning of a long trek: his mandatory military service. It begins with 6 weeks of training, after which he will be stationed in the northernmost part of Korea to remove landmines in the DMZ. In total, it lasts 21 months.
During this time we will be reduced to letters, phone calls, and of course, occasional visits. It almost sounds like a drama, right? ...Well it's not!
Let's be real here! Our last weekend wasn't romantic and tearfully dramatic, he had errands to run! Hair to cut and medical notes to get! (Although we did also go to Lotte World, but that's another post~)
Eye hospital in Gangnam
Now again! This might seem mundane for some, but I do think hospitals in Asia carry a different ambiance than the ones I'm used to back home~
This particular eye hospital was housed in a ginormous black building right outside Gangnam station. Supposedly it's very good for Lasik surgery, but it's how you check in is what awes me!
Take the elevator down to the B2 level and walk through this
*fancy*
wavy hallway: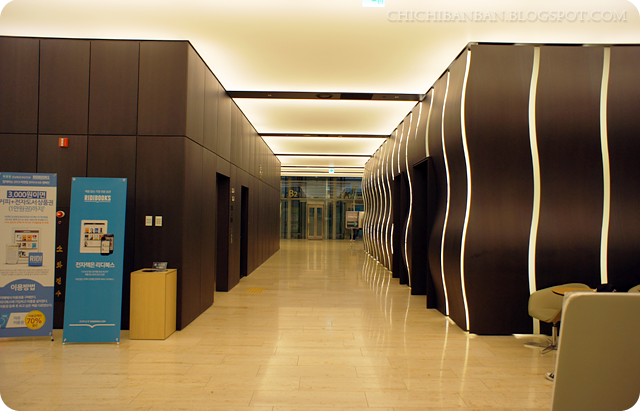 Then you head straight over to these *touch-screen computers* and punch in your ID number:
...Fascinating!!!
Across from those monitors is this counter:

(Don't judge me for the trivialness of this! Again, I just want to take pictures
of everyday sights that are different from what I'm used to >.<)
The uniforms here reminded me a bit of airline stewardesses! Some of them actually had a mini scarf tie around their necks.
Down below was the waiting area where they had a café and glossy computers: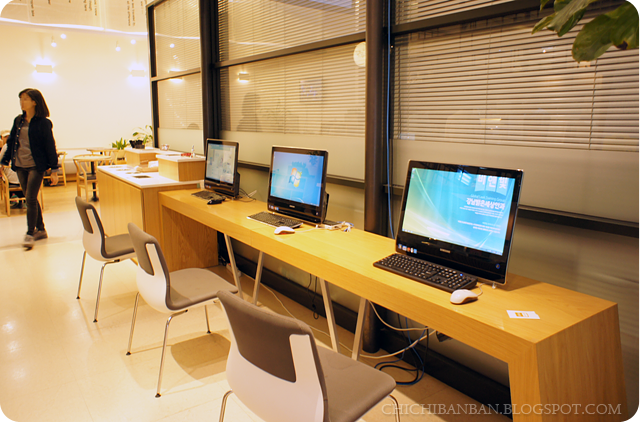 The suburban hospitals I went to at home didn't
offer computers, much less glossy ones…
And just beyond this area was a large room showcasing their equipment and achievements. The entire back wall was a big mural composed of autographs from celebrities they had performed LASIK on: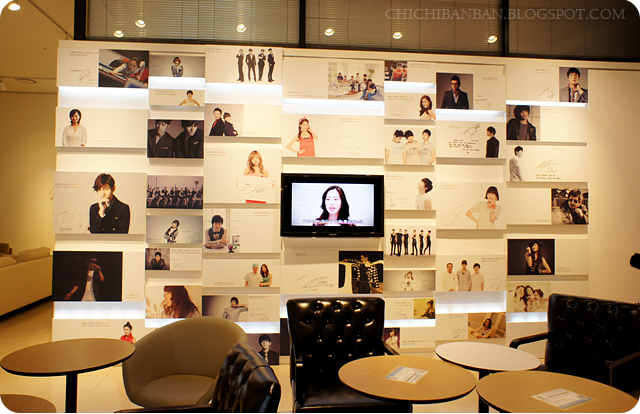 I spy SNSD, 2pm, DBSK, Kangta, and EXO!
Konkuk University Area
On our way to the hair salon to get his hair cut military-style, we walked along this very spacious sidewalk near Konkuk Station. With the sun out and the flowers in bloom, it was all so beautiful!
Passing by a Konkuk University building~ The sky was sooo clear!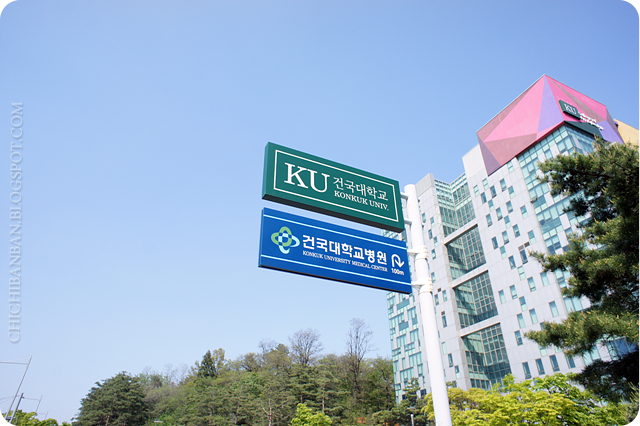 Eventually, I got fed up with the sunshine beating on me and I marched over to the shadier side.
No pretty flowers here, but we did pass by Pinkage! Oh yeah~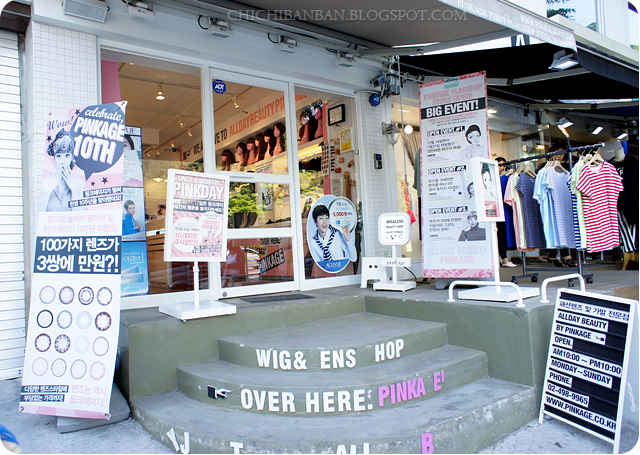 Sunday Evening: Children's Grand Park
May 5th was Children's Day in Korea. The Seoul Philharmonic Orchestra performed at the Children's Grand Park, and we stopped by in the evening to check it out: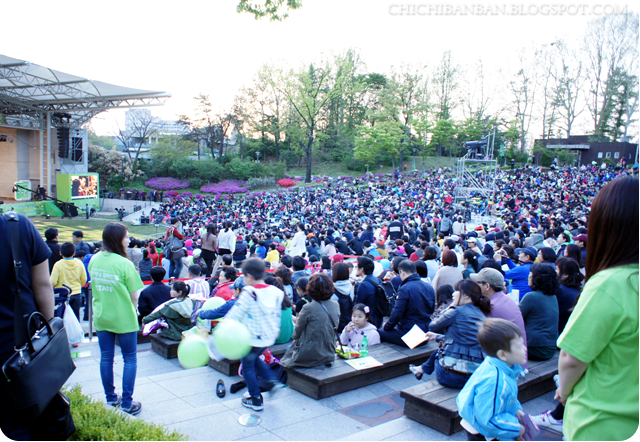 Quite the turnout! Could it be because the conductor is really famous?
A view of the stage (and shoulders of two messenger bag wielding men):

Can you see the screens on each side of the stage?
And here is a fountain in Children's Grand Park!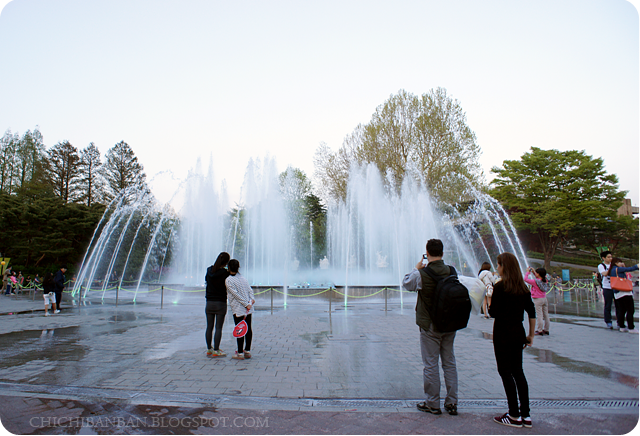 Sometimes there are colored lights and the water sprays around in synch to the music playing, which is really neat! (Though truth be told, I could hardly tell it was in synch...)
Store Sightings
Check out these humongous-headed mannequins at Lotte World!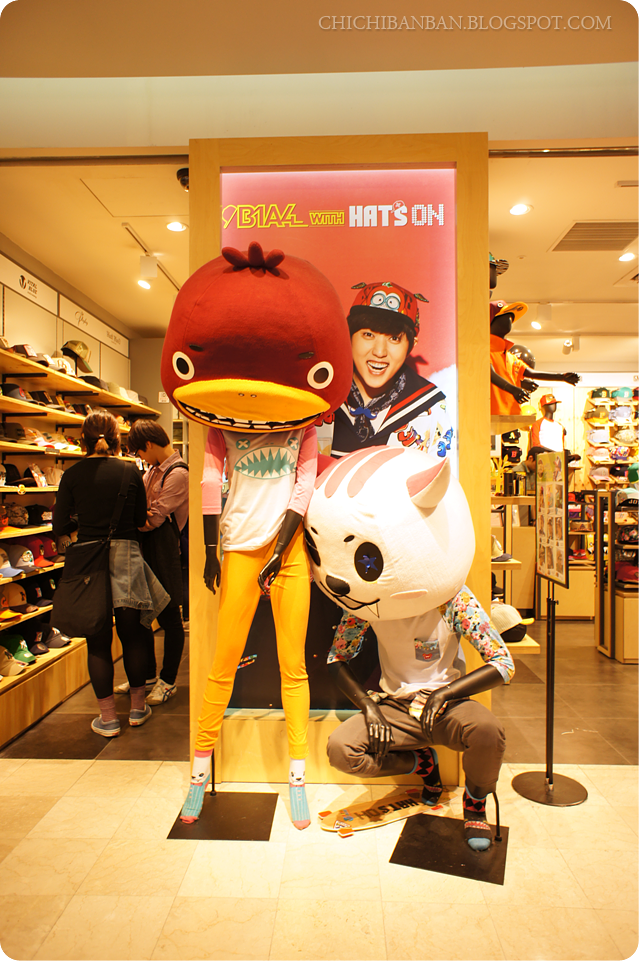 I'm truly curious how the workers managed to balance all that weight on those teeny tiny shoulders.
On another note, it looks like B1A4 is photobombing the mannequins!
In Lotte Department store, all the mannequins inside had really awesome floral headpieces!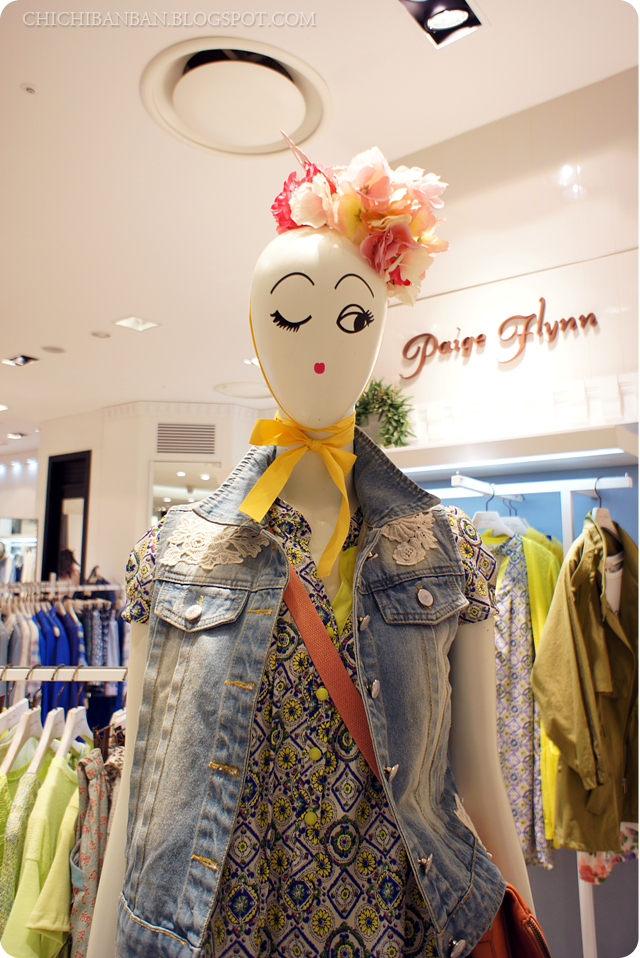 Omg, I wanted them so badly!
And down below in the food area were these ADORABLE cakes!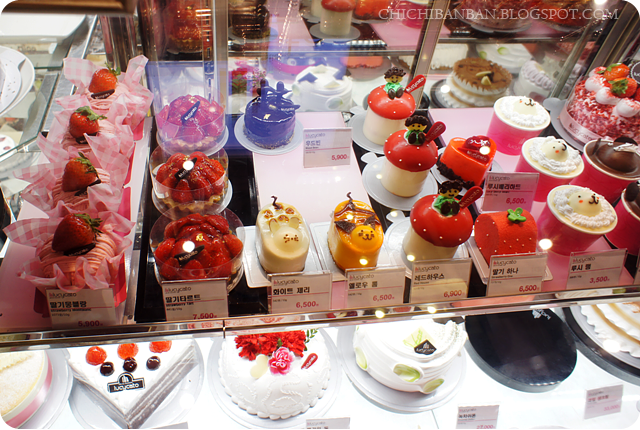 My favorite is the mushroom one!
Unfortunately I wasn't able to take any more pictures before the lady stopped me....sad face.
Gangnam
Our quest for his mom's birthday gift led us to Gangnam, where my jaw dropped over these two gigantic screens, on
two consecutive
buildings:
If they don't look big to you in the picture, look again! See how tiny the people across the street are? Okay, so now realize how big the building is. Now go back and realize
exactly how big
the screens are. See it now? But wait! Remember that there are
two
of these screens. Oh, the technology~~
View from my new apartment
If you follow me on twitter, you'll know that I've been bending over backwards to clean my new apartment. Well, here's the view from said apartment!
It's not a very pretty view...Actually, my immediate surroundings are…metal shops.
But that's okay; not all of Korea is glitz and glam! It is a real country, after all~
To all my readers (and sponsors) who are eagerly awaiting for a review, I wholeheartedly apologize! I truly meant for this post to be a review. I have just a few more pictures to finalize but unfortunately, I won't be able to do that until this Sunday. I soooorta left the product in my new apartment in Seoul....
But in the mean time, I hope you enjoyed this Snippets post full of lovely mundanesies! (Yes, I just made that word up. It's like daisies, except...mundanesies!)