I don't usually share my skincare routine, and that's because it depends heavily on what product I happen to be reviewing at the time. But lately, my skin has been doing so well that I just had to write it down!
As of late, I can safely say that I have been acne free for one whole month. Now, I normally have at least one pimple (or cyst) on my face at any given point in time. Whenever I recover from one pimple, I wake up the next morning with a new one somewhere else (argh!) So for me to wake up without any new inflammations for 30 days straight…that was quite an accomplishment!
Without further ado, here is my current skincare routine: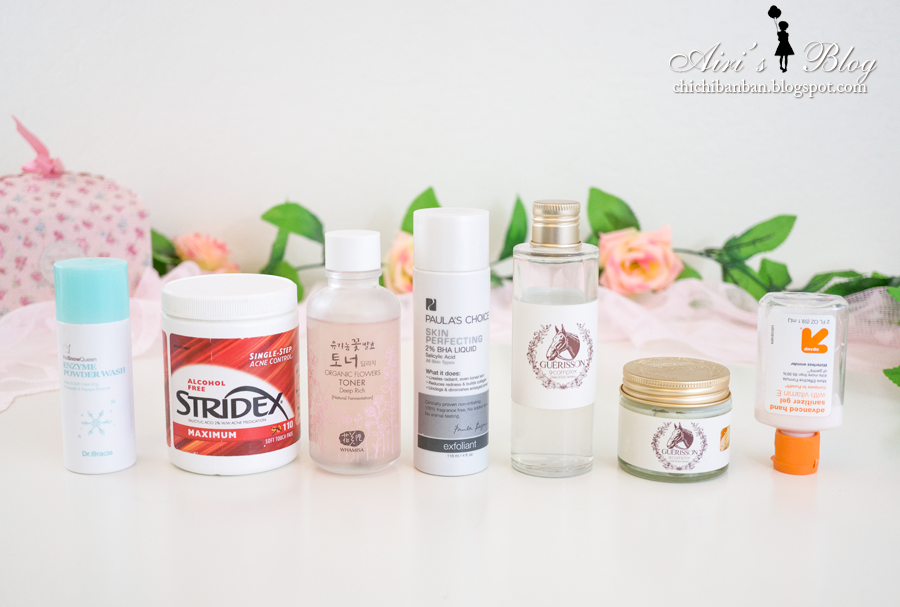 From left to right:
Dr. Oracle the Snow Queen Enzyme Powder Wash (review here)
Stridex pads
Whamisa Organic Flowers Toner Deep Rich
Shara Shara Honey Bomb All-in-one Ampoule (review here)
Guerisson 9-Complex Essence
Guerisson 9-Complex Cream (review here)
Shiseido White Lucent Anti-dark Circles Eye Cream
1.) Dr. Oracle the Snow Queen Enzyme Powder Wash:
for gentle, non-drying cleansing
(review here)
I love this cleanser. It's
extremely
gentle (yet effective) on my dry skin. It's so gentle that it doesn't exacerbate my dryness at all—something I realized other cleansers, even the ones marked as gentle, do.
To give you an example, there was a 3 week period where I had switched from this cleanser (the Dr. Oracle one) to a popular Shiseido one. My skin immediately took two steps backwards. It went back to being dry, flaky, and rough. My makeup, of course, looked terrible.
I then switched back to this cleanser and everything toned down within a few days. My skin was softer, less dry, and less flaky. It made me think that perhaps my skin wasn't as dry as I thought; perhaps it was just that most cleansers exacerbate it.
Bascially, I love this cleanser because it's so gentle!
2.) Stridex pads:
for deep cleansing of my pores and keeping my blackheads in check
These are 2% salicylic acid pads from Walmart. They're cheap but do the trick! If I don't use these for a couple weeks, I see a definite difference in my skin. Not only does my skin feel rougher and flakier, but my pores, comedones, and blackheads get larger. Using these pads has helped refine my skin texture and keep my blackheads in check. I can't be without them!
3.) Whamisa Organic Flowers Toner Deep Rich:
eh, mild softening
This is a toner I recently bought off Glow Recipe. To be honest, I don't love it. It doesn't seem to do much except make my skin somewhat softer, though still not as much as the horse oil serum did (which I will talk about in a second!) But for the sake of completion, this is the toner I am currently using. Don't love it though!
4.) Shara Shara Honey Bomb All-in-one Ampoule:
for all around great moisture
(review here)
(If you look at the picture above, you'll notice that I've transferred this moisturizer into a smaller bottle from Paula's Choice! The original packaging was a wide-mouthed jar which I didn't like.)
Other than that, I really like this moisturizer! It has a thin and lightweight texture and strong hydrating power. When I first began using it, it also made my skin softer. It hasn't made my skin much softer since then, but that's okay—for softness, let's go to the next product!
5.) Guerisson 9-Complex Essence:
for major skin softening!
This is a horse oil essence/serum. It doesn't do anything in terms of moisture, but it does soften my skin. A
lot
. Within the first few days, my skin felt like velvet–yes, velvet! Granted, it was temporary at first. If I forgot to use it one day, my skin would no longer feel like velvet. However, with continued use (about a month), my skin now feels baby soft even if I
don't
apply skincare for a couple days.
6.) Guerisson 9-Complex Cream:
for helping my dry skin in general
(review here)
This is the infamous horse oil cream that I love and will be ordering a second jar of very soon! When I first began using it, it helped improve my dryness by providing a thin coating of sebum-like moisture on my skin. It also lessened my dry flakes. Since then, the results have been steady. My skin generates a bit of sebum on its own and I no longer feel dry throughout the day.
7.) Shiseido White Lucent Anti-dark circles Eye Cream:
for eye cream and lightening dark circles + acne scars
This is Shiseido's anti-dark circle eye cream; I've simply transferred it into a bottle and stored it upside down. And because the bottle I am using is clear, I also store it in a dark drawer to avoid the sunlight.
I like this eye cream because it's rich enough to moisturize my undereye area (which is uber dry and wrinkly!) But most importantly, it lightens my dark circles and acne scars. Applying a smidge on my acne scars brings from a medium brown to a light brown. It sadly doesn't remove them completely, seeing as the results plateau after 2 weeks, but still—I'll take it!
-----------------------------
Putting all of these together, I can safely say that my skin is doing much better than it was a few months ago.
Here is a picture (with foundation on.)
I now have:
no pimples or cysts for the past month
more refined pores
smaller comedones/blackheads on my nose
no blackheads/comedones on my cheeks
smoother and softer skin overall
less dry flakes. I usually only have them on my nose now.
less dryness overall. My skin doesn't feel lacking in moisture anymore; I'm about just right.
Now, that's not to say that my skin is perfect! I still have redness, acne scars, and flakes on my nose. The point is that they are much,
much
less than before.
And in case it matters, I have also switched to eating Asian (mostly Korean) food again. Fried rice, noodles, kimchi-based dishes, marinated pork, things like that.
Again, I'm not dermatologist, but that's what I've been doing lately!