Here's a brand I don't typically talk about, Banila Co! It's a little higher end than Etude House and Holika Holika. In other words, it's a little pricier. Hence why I don't mention them much, keke… But anyways, let's take a look at this highlighter!
This review is kindly sponsored by Honest Skin. Thank you Honest Skin!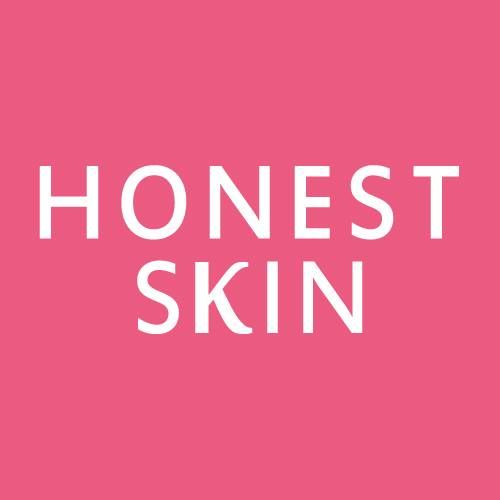 --------------------




Brand: Banila Co
Name: The Secret Marbling Highlighter
Color: 01 Scandalist
Amount: 8g
Actual Weight: 65g
Price in Korea: 18,000KRW
Price on Honest Skin: $21.36 (Currently on sale for $14.96; also make sure to use my discount code "P88FIHW163" for 5% off!)

Here's the box: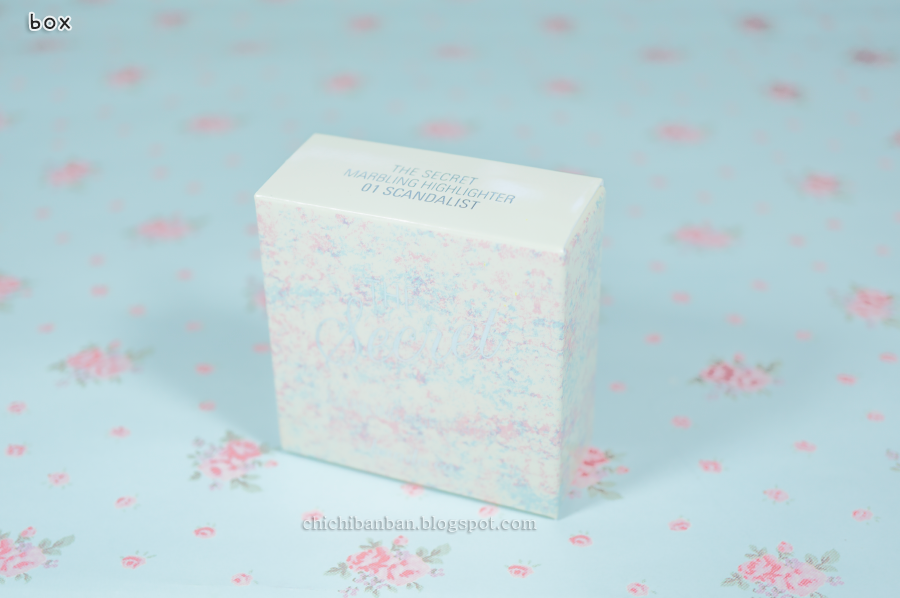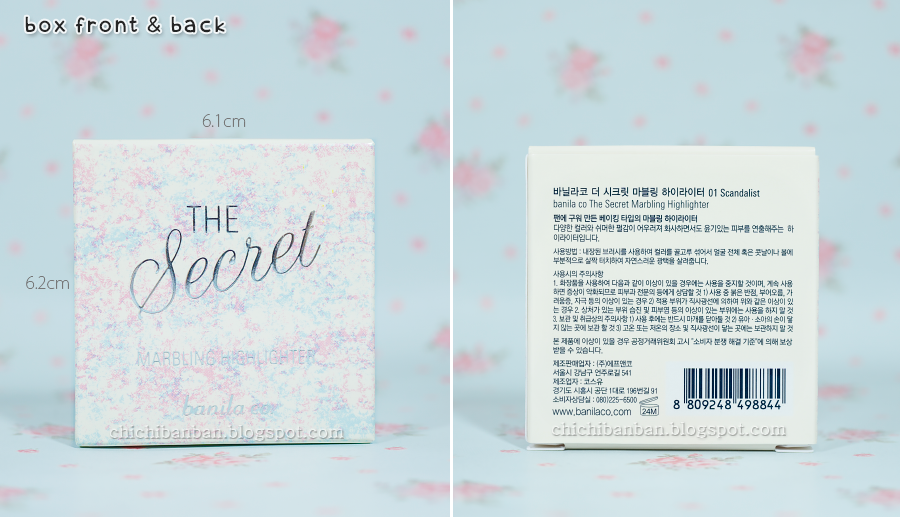 And here's the tub. The tub is reflective, enough so that you can actually use it as a mirror.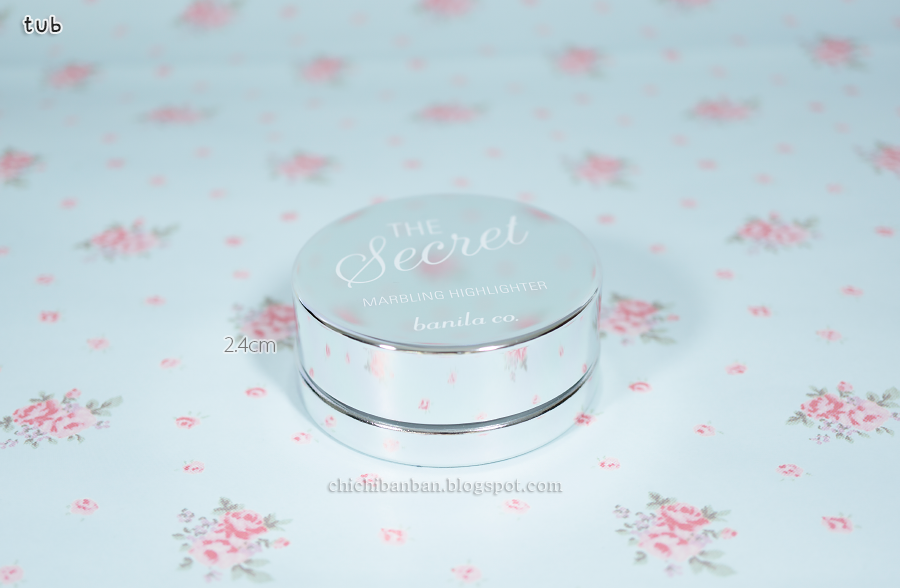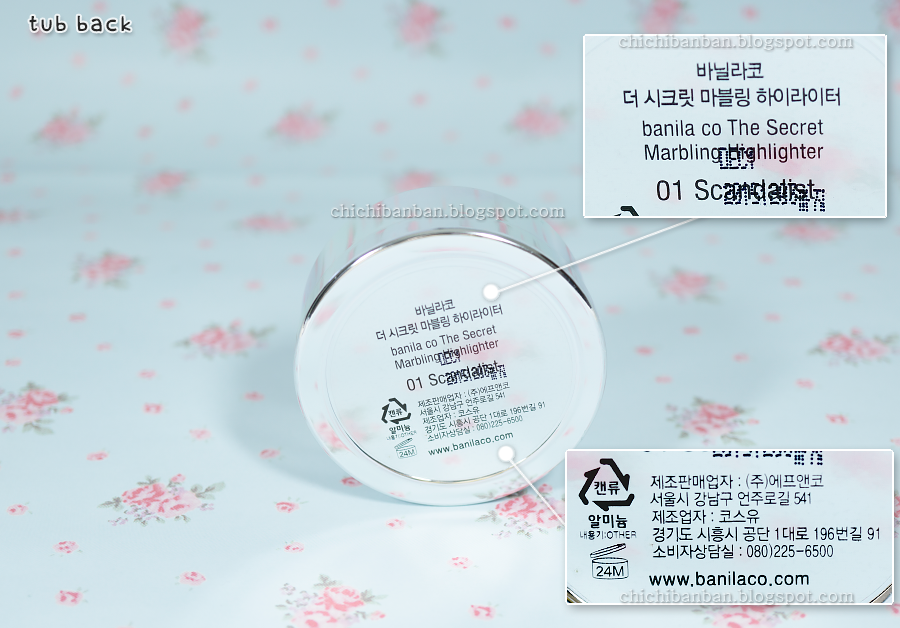 You can see the container's actual color a little better here: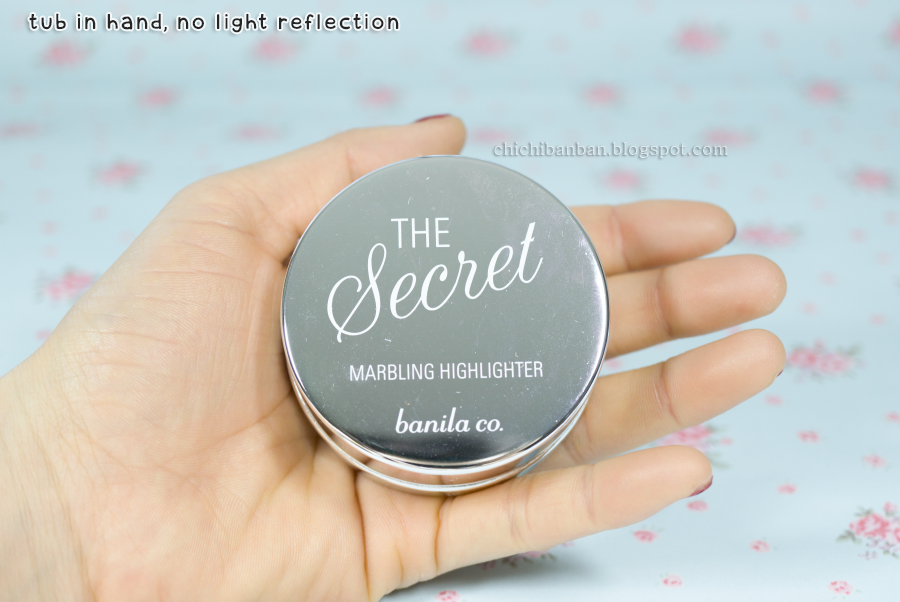 It comes with a little brush: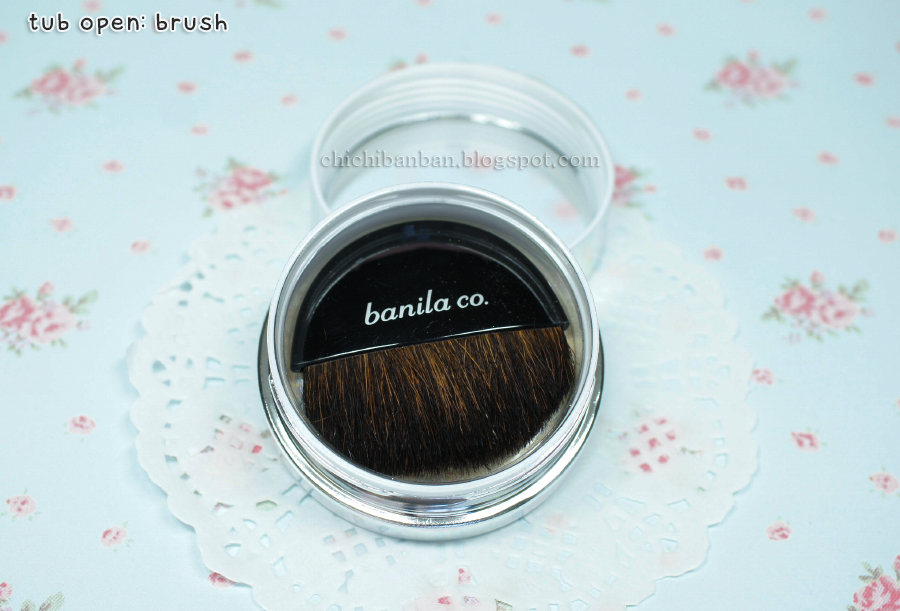 The brush is reasonably soft, but the bristles aren't entirely even or full:
Underneath the brush is a plastic lid covering the powder. If you continue to store the brush inside the tub, I recommend keeping this plastic lid. As annoying as it is to remove all the time, it keeps the brush from becoming a powdery mess!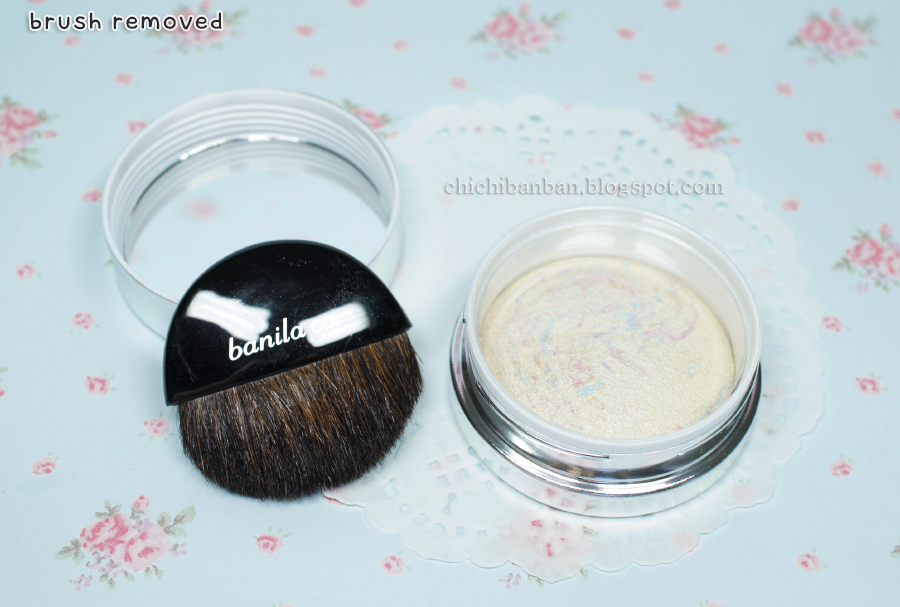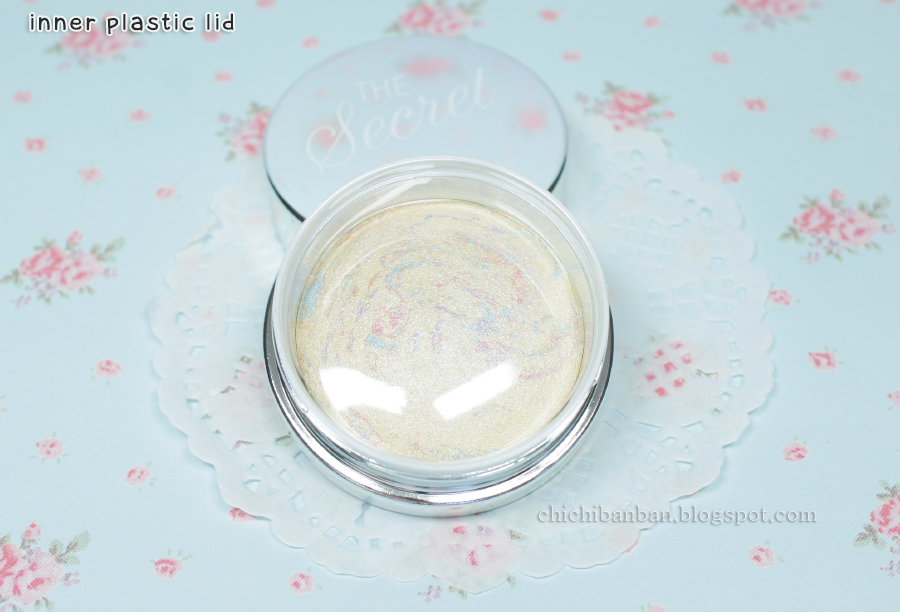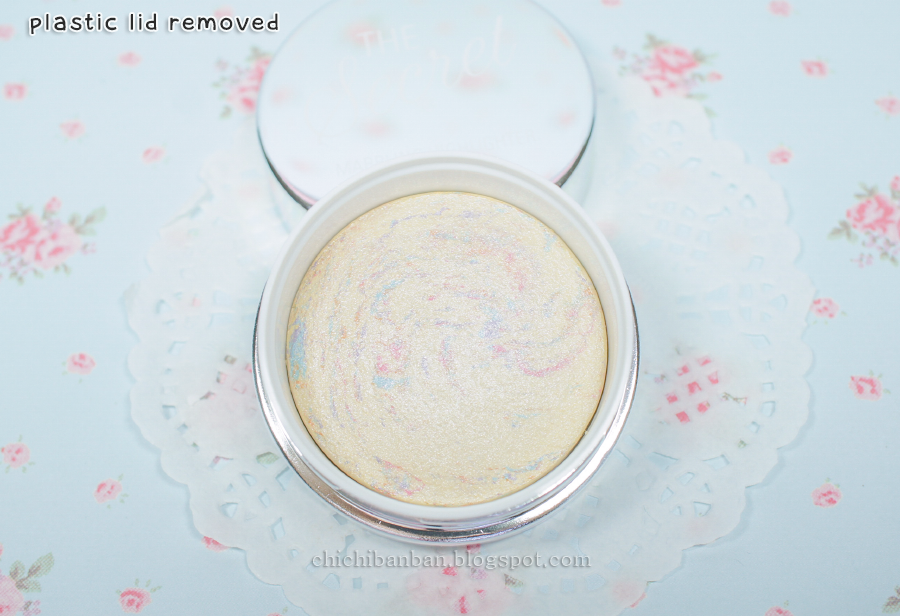 The powder has swirls of pink and blue in it, but when applied, it's mostly a pale shimmer. If you look closely you can see a hint of pale yellow.
Natural window light:
Alone:
It's smooth, but not soft. I say this because the powder "particles" (I'll just call them that) feel smooth, but they are pressed together very firmly:
Natural window light: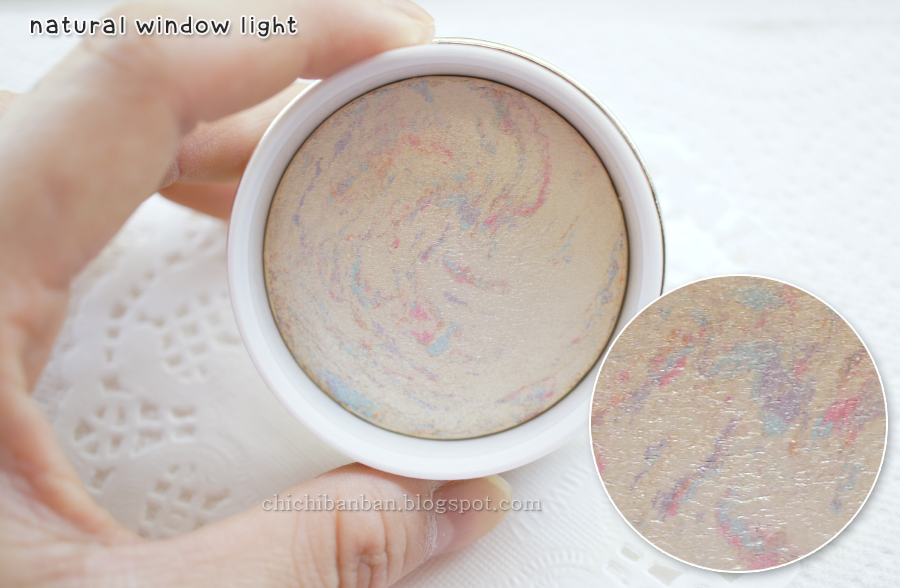 At first, the outer layer looks textured and shimmery. But after wearing through it, the powder becomes smooth and more matte, like this:
Natural window light: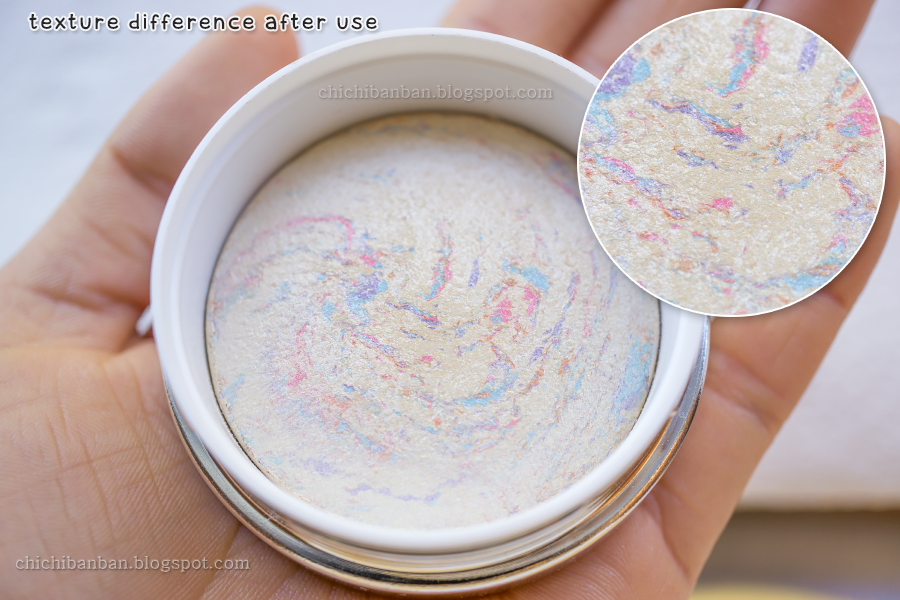 It picks up modestly on my brush (unlike the
Minnie Mouse Highlighter
):
Natural window light

On my face:
I currently don't have any dry flakes, though I do have large pores and bumps on my cheeks. As it turns out, this highlighter doesn't accentuate my unevenness too much! My
guess
is because it applies in such thin layers (since the brush picks up so little), and because the "powder particles" are fine? But anyways, it goes like this:
1 - 2 layers: Completely ok; no unflattering accentuation.
3-4 layers: The powder finish starts to get become noticeable, but not necessarily in a bad way. It still doesn't accentuate my bumps.
6-7 layers: Now it starts to look powdery in a bad way. I begin to notice it clinging onto my bumps. (But then again, 6 layers sure is a lot!)
Here's a photo summary. Notice how with 1 and 2 layers, the texture is hardly noticeable from a normal distance:
Natural window light

It's incredibly subtle, at least on me. I can hardly see it under bright light (and by that I mean daylight.) It shows up better in dim light, but even then it's still a natural payoff. The shimmer is not obvious. Up close you can see little golden specks, but from normal distances, it looks like a slight metallic glow at most.
Here are some full-face swatches. You can hardly see anything, I know! I'm mainly including them for completion. If you hover over the images, I've shaded in where I've applied the highlighter. (It might take a few tries for the hover thing to work.) I recommend focusing on the left side of my forehead. That area shows up best, I think!
Natural window light: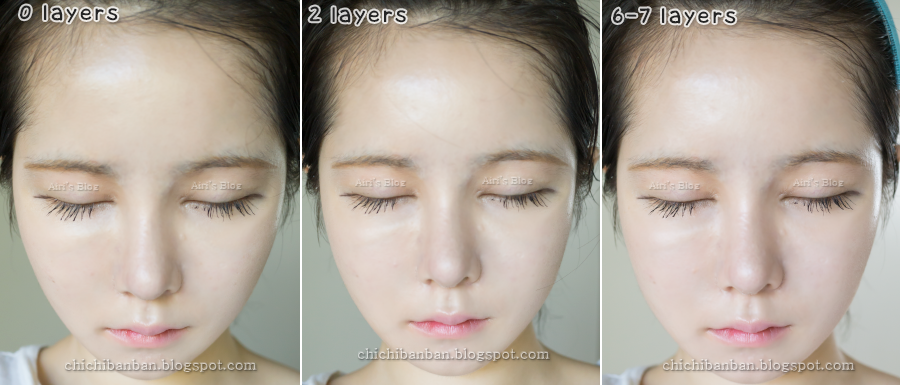 Dim room light: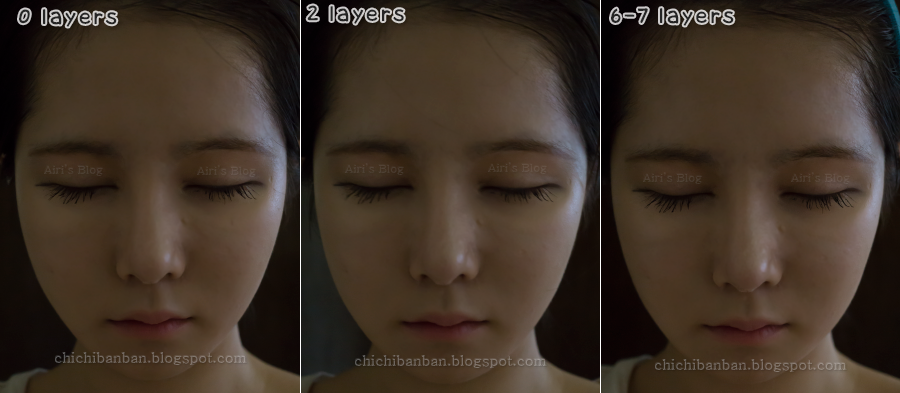 If you're interested in more details other than what I've already summarized above, here are some extra descriptions that may not be clear from the photos:
1 layer: Hardly noticeable. It makes just the slightest difference under dim light, and is practically unnoticeable in ample light. Only if I look very closely can I see the tiny gold specks of shimmer.
2 layers: The difference is there under dim lighting, but again, very subtle. It brings light to my face in a very natural way, as opposed to looking unnaturally shimmery. (Because people don't naturally shimmer, right?) The highlighter is still unnoticeable in bright light.
3-4 layers: The highlighting and shimmer specks are no longer subtle under dim light! I wouldn't say it's quite transformative (in terms of changing the curvature of my face), but likely enough for most gyaru looks (circa 2009-2010). The powdery finish is a little visible in bright light, but the actually highlighting still not so much..
6-7 layers: This is basically a step up from the previous one. The highlighting is there and it's definitely illuminating my face, but not to the point of Kim Kardashian-style contouring. And even with so many layers, the shimmer still does not stand out. It's more glowy than pearlescent, if that makes sense...

It certainly has it's nice aspects. It applies very naturally, which can be helpful for people like me who tend to over apply. I also like how I can apply several layers without it accentuating my bumps or large pores. But at the same time, it hardly shows up on me!
And for that, I think it's ideal for gentle highlighting—if you wanted to add a bit of light under your eyes or into your naso-labial folds, for example—without too much powdery texture, which can be unflattering for rough skin. As for really dramatic contouring (what I like), I think it
is
possible but would require an immense amount of product.
And please remember, these are just my experiences! I personally used a brush and have somewhat light skin. It may be very different on darker skin, but I can't say!
Thank you again Honest Skin!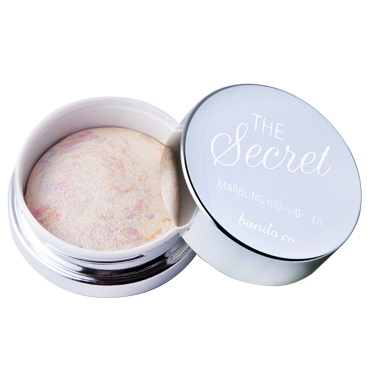 If you've tried this product, please do share your experiences! Otherwise, I'm very curious about everyone's preferences when it comes to highlighting. Y'all know I like me some dramatic lifting! :3