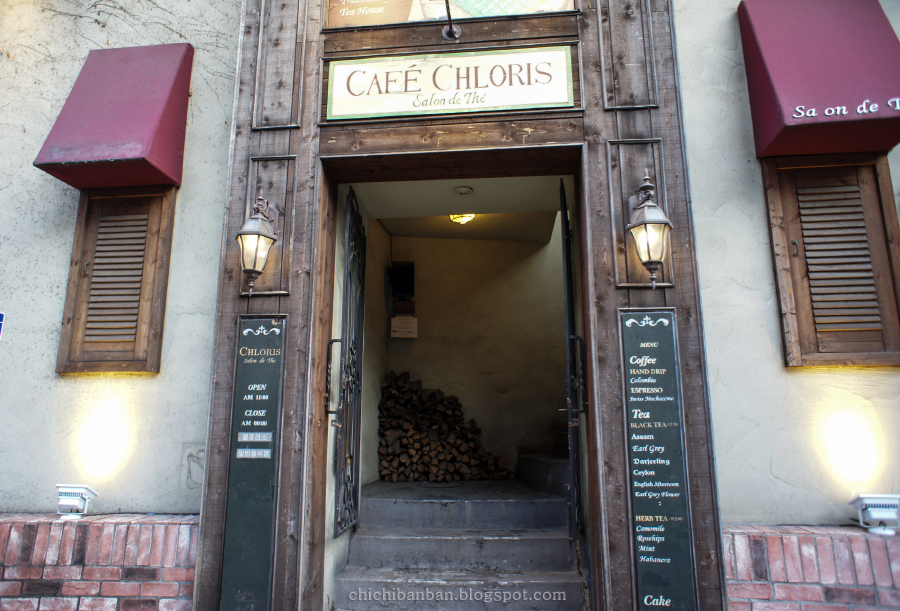 This was one of my favorite cafés to frequent. Good drinks and great décor. Café Chloris goes all out with the "late 1800s England" style, which I just love! They also have multiple locations, but just like the
Hello Kitty café
, the Sinchon locations are much better than the Hongdae ones! This time the Hongdae location isn't actually bad, but the Sinchon locations are still much better!
There are two locations in Sinchon, and believe it or not, they're only 50m from each other! They're even on the same street. In this post I'll introduce the first location, the one which is closest to the subway station. Later on I'll showcase the second one. :)
Let's start with a video I made that compiles some video clips I took. I'm very sorry about the quality. Not sure what happened there, but 1080p is a must this time!
As promised at the end of the video, here are some photos and extra information about the café:
This is the outside of the café: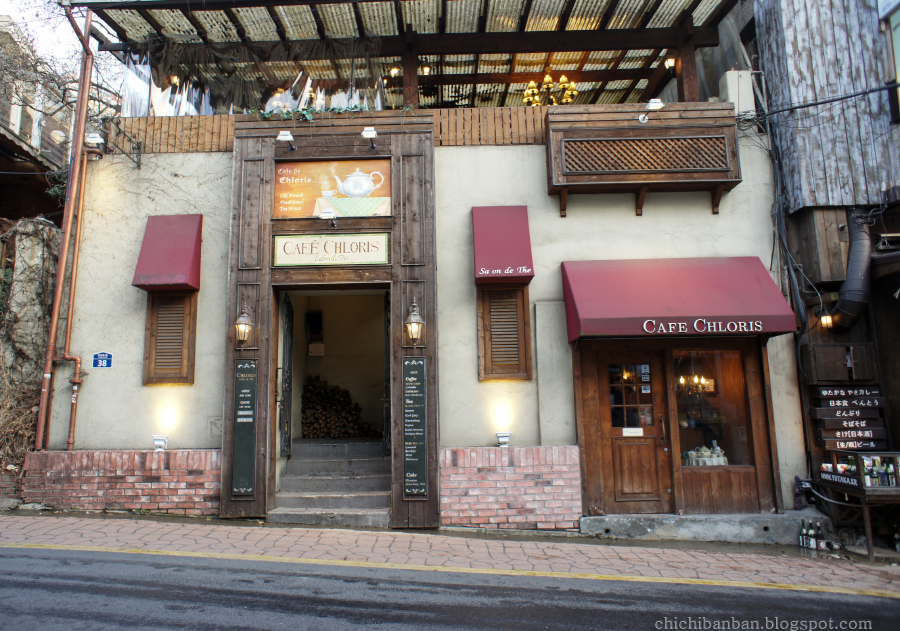 Off to the side they have a display window and door, though you can't actually enter through here.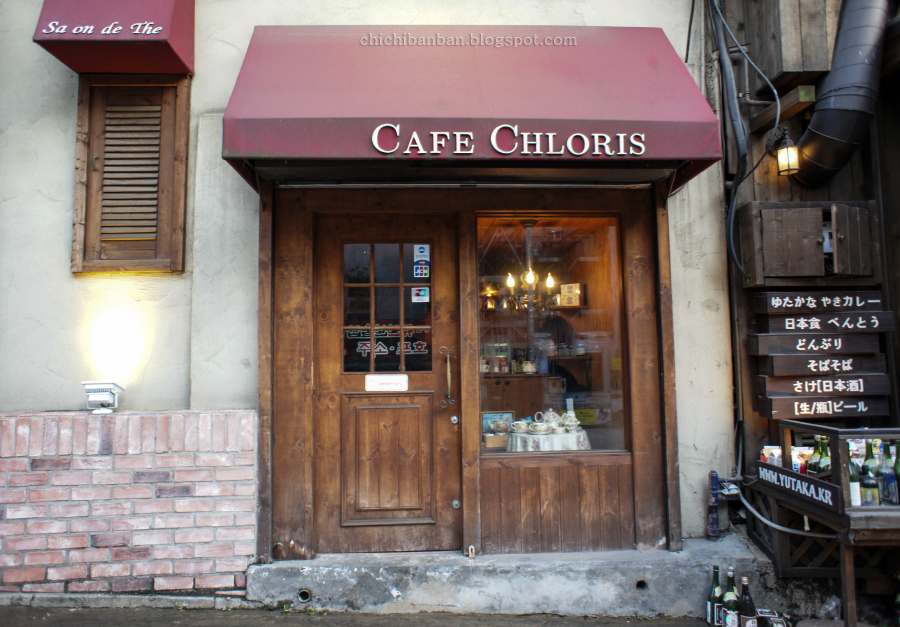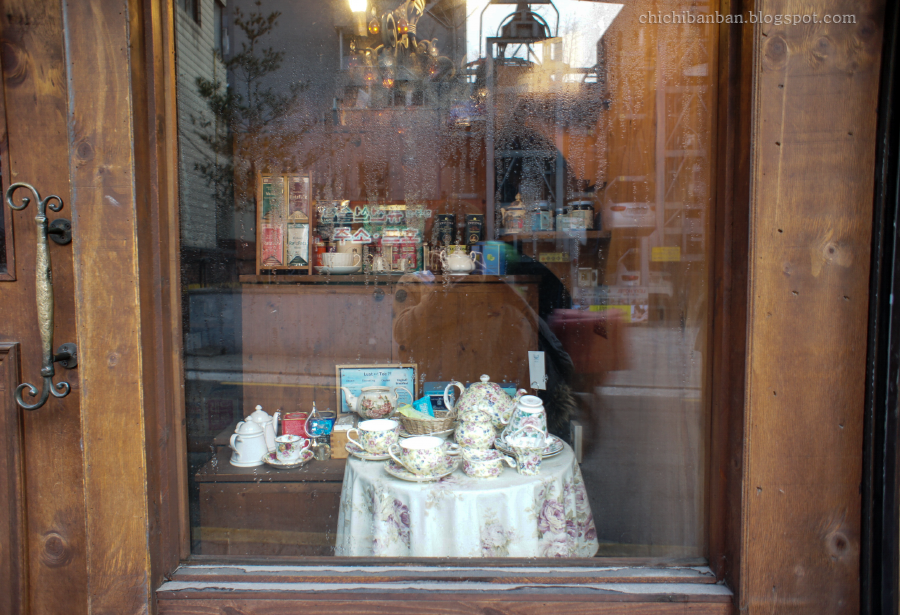 The entrance: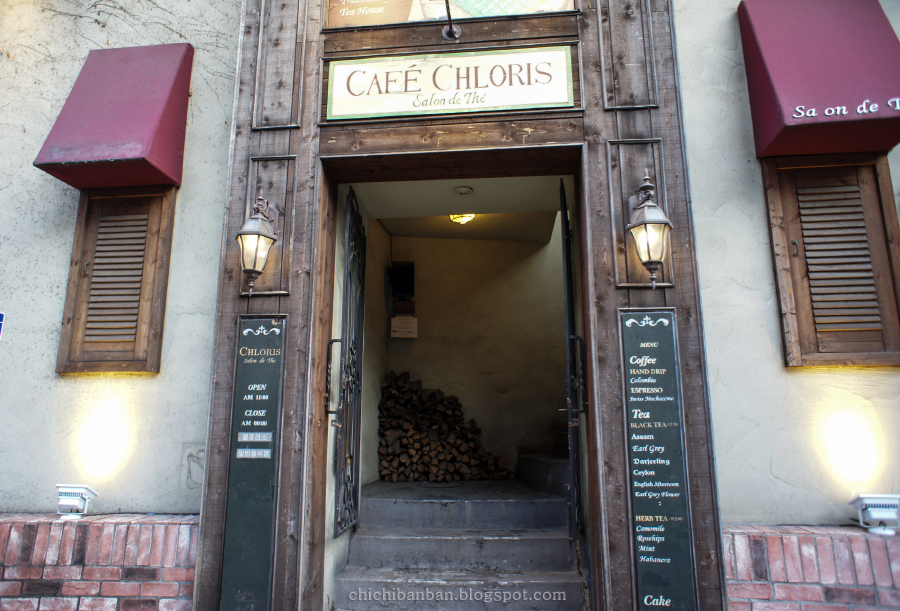 You have to walk up these steps to get to the café!
The counter area of the café: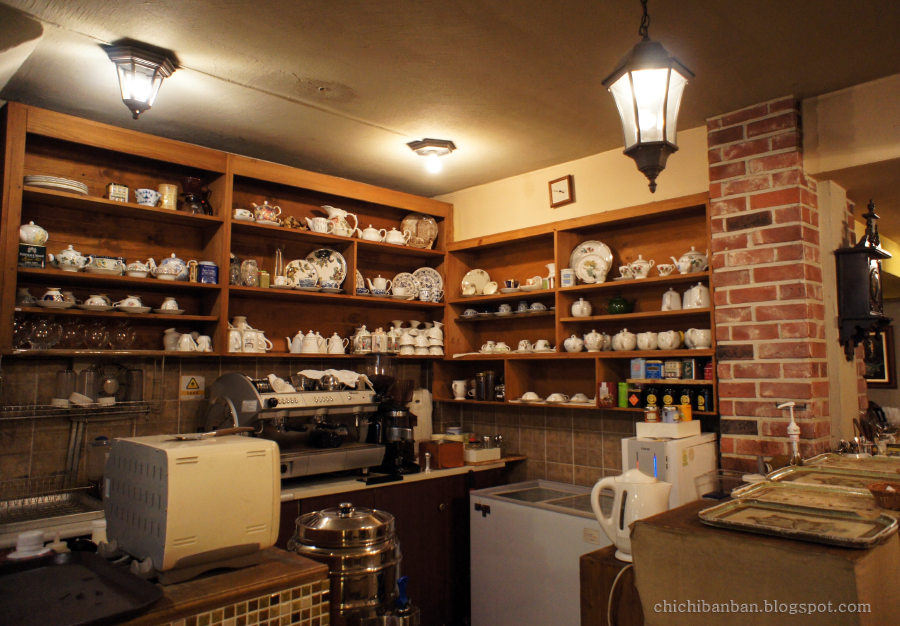 A 3-tier platter filled with trinkets:
Cakes:
Seating by the window:
Wall decorations: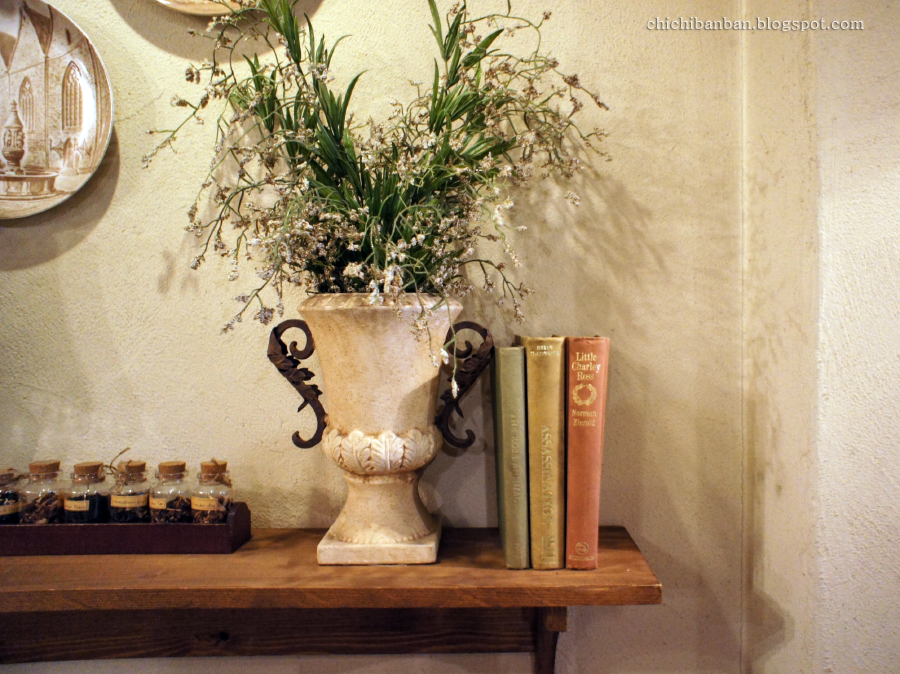 An old-fashioned room divider (is that what they're called?) behind this sofa: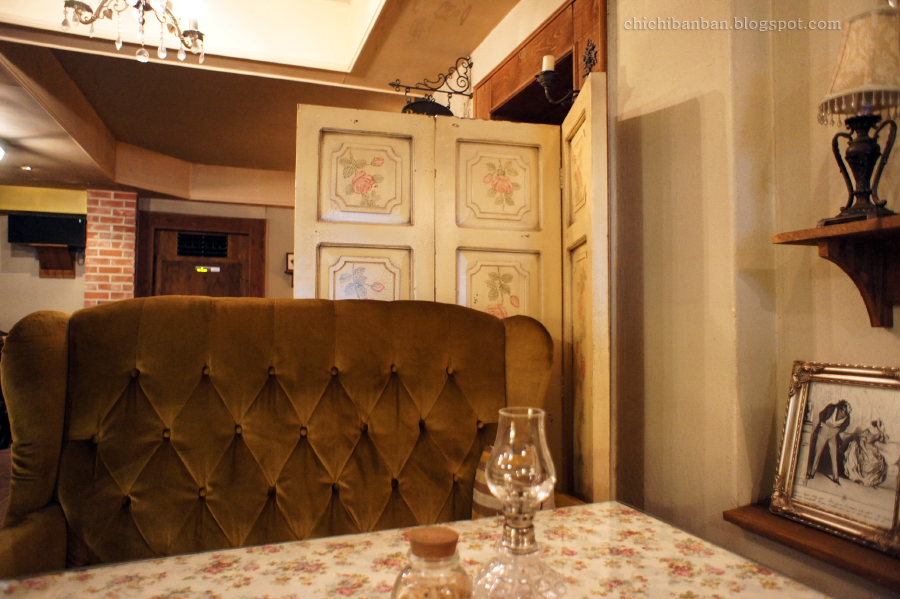 Decorations in the stairwell:

For some reason it makes me feel like I'm in a lighthouse...
Backroom seating area: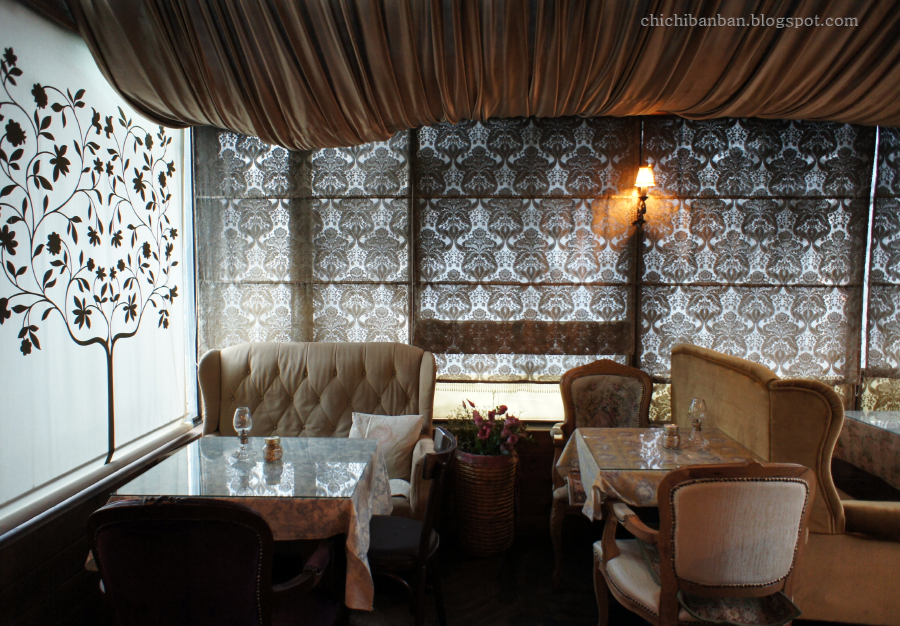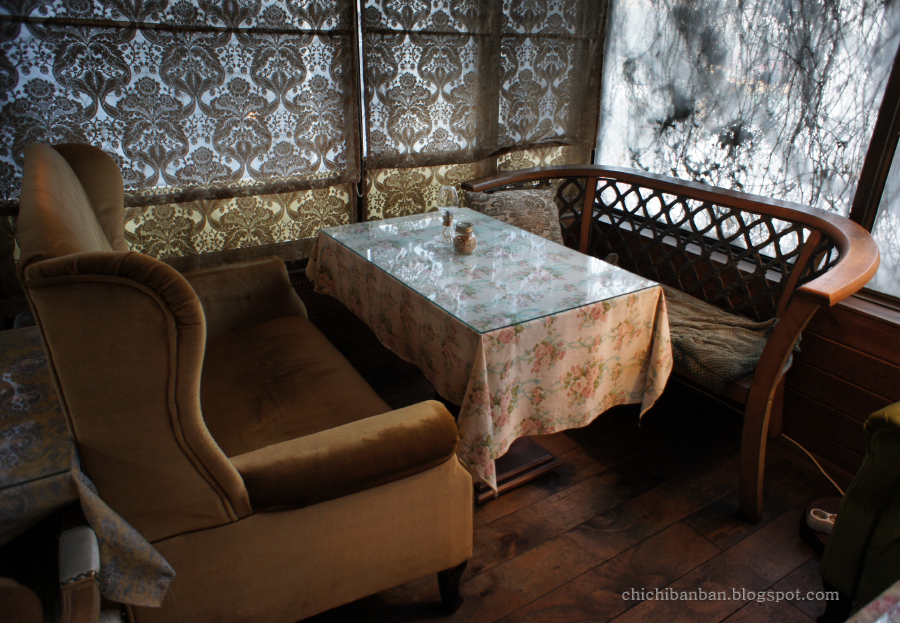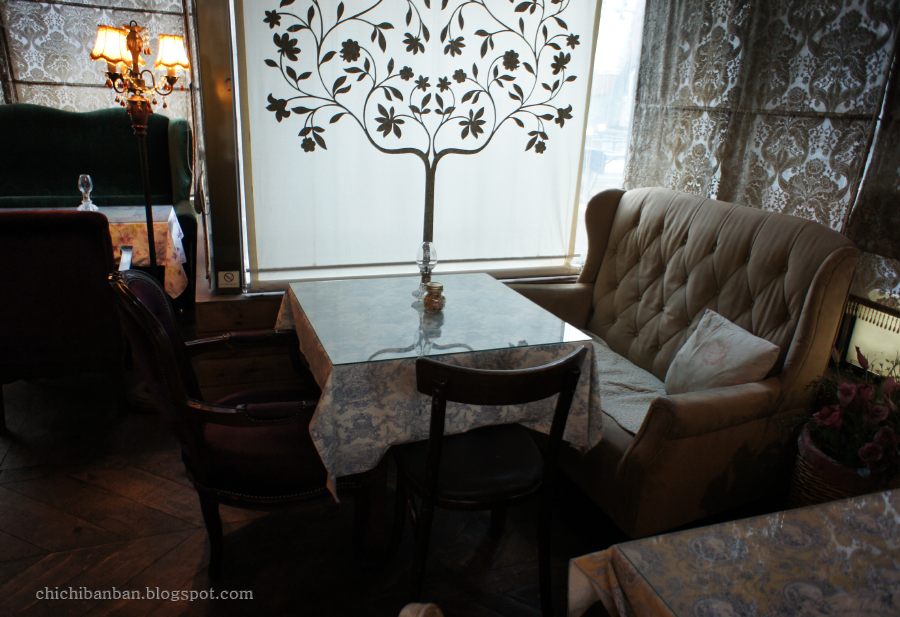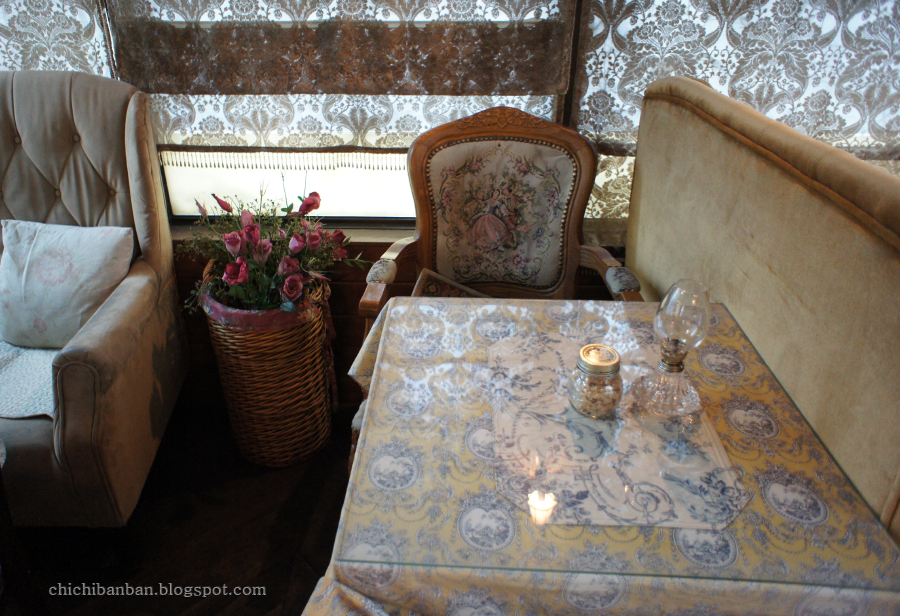 They have oil lamps which they light for you. I mistakenly called them candles, but they're really oil lamps! They even have a bottle of oil around.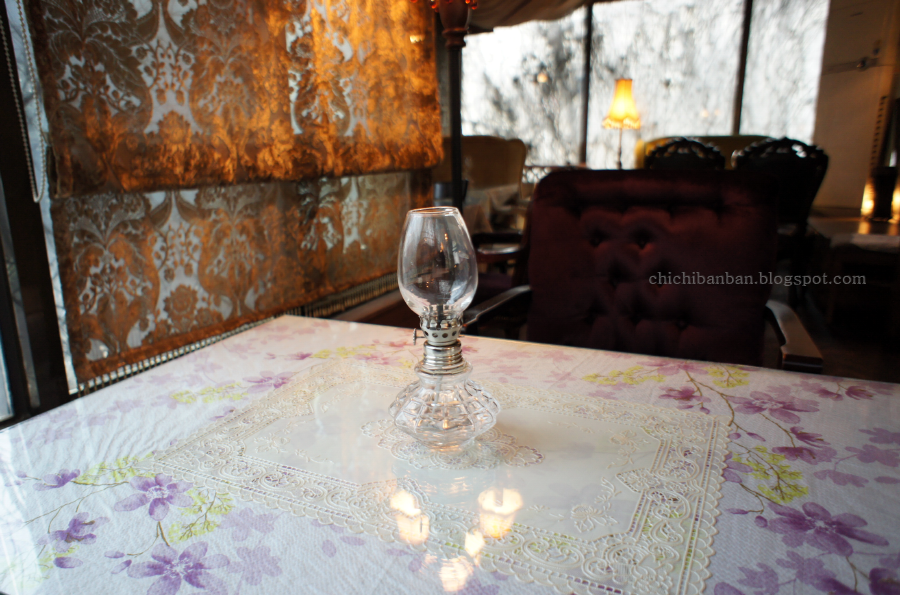 More seating and wall decorations: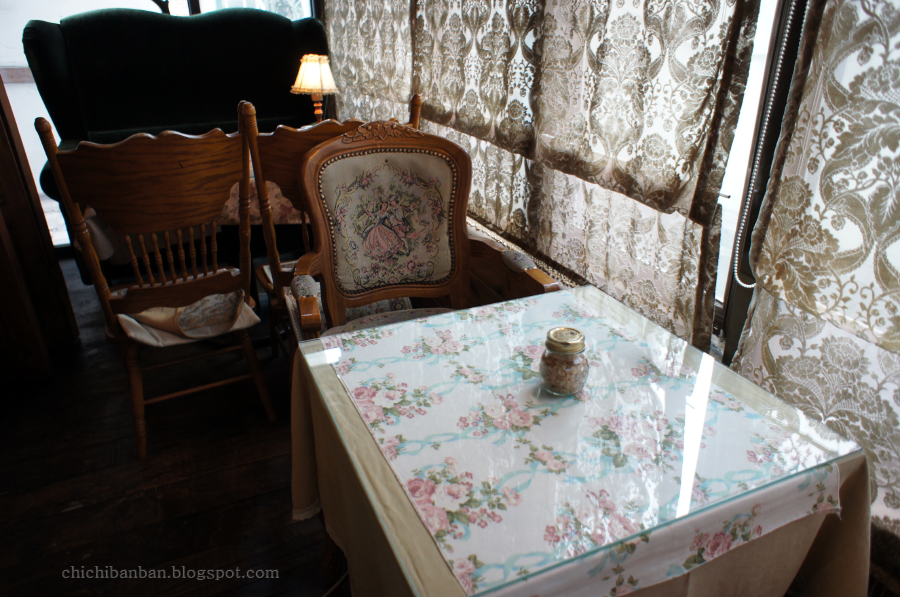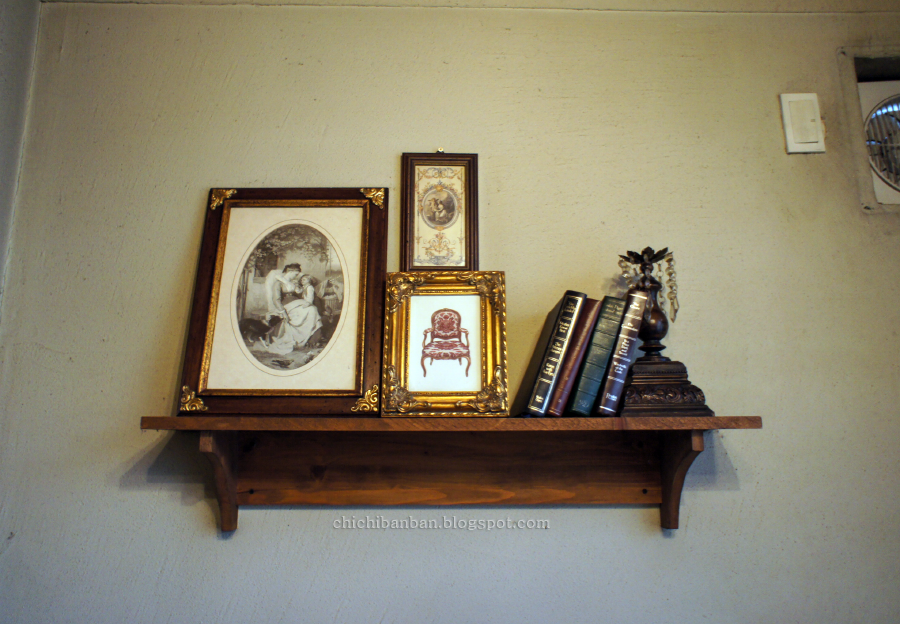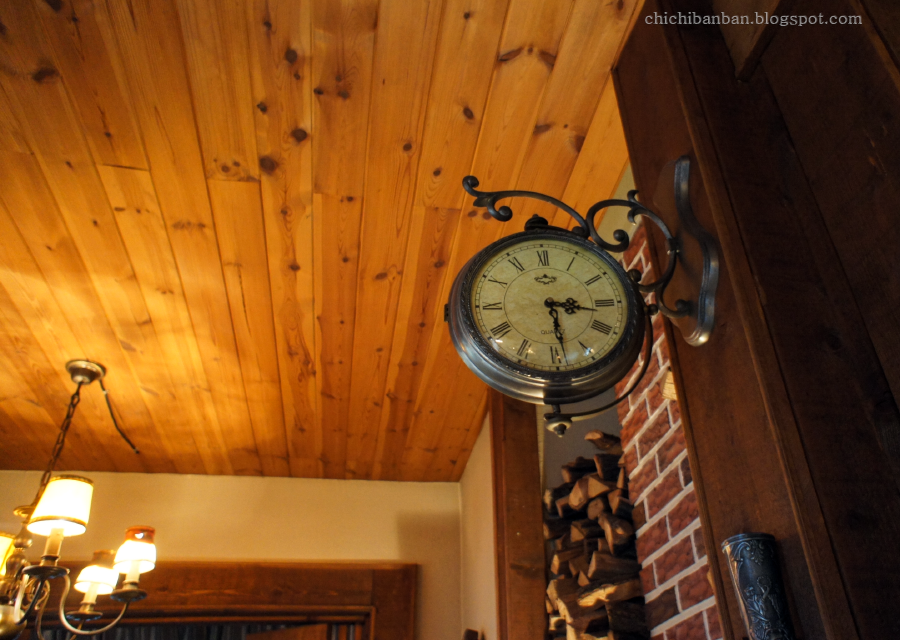 This is the napkin/water area (although there's no water at the moment…)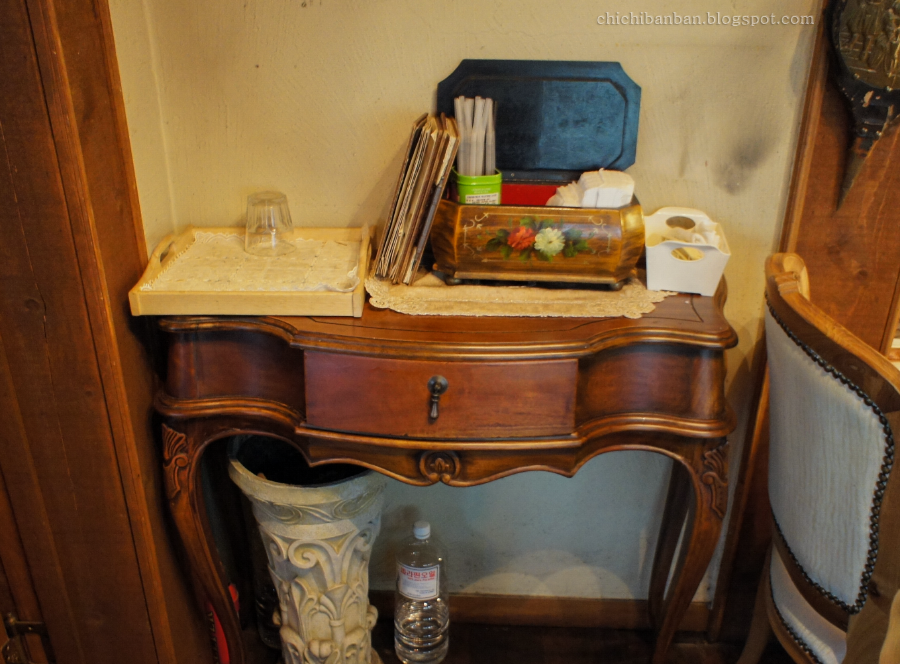 The shelf above the napkin area:
One of their walls is fashioned with brick and reminds me of a chimney. :D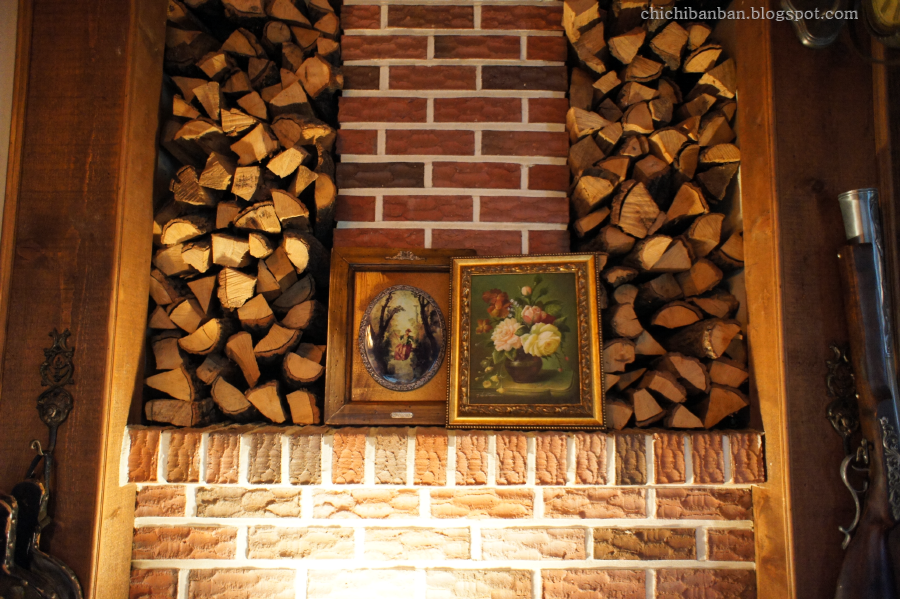 Their blanket and magazine stand (plus a really cool telephone!)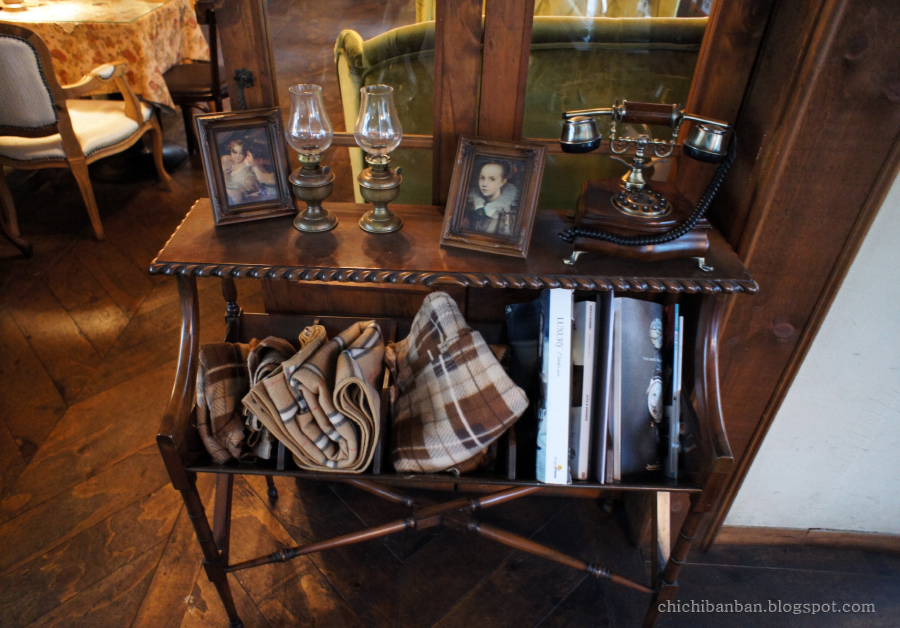 A windowsill:
I came to this café several times, and this was one of the little tables that I sat at: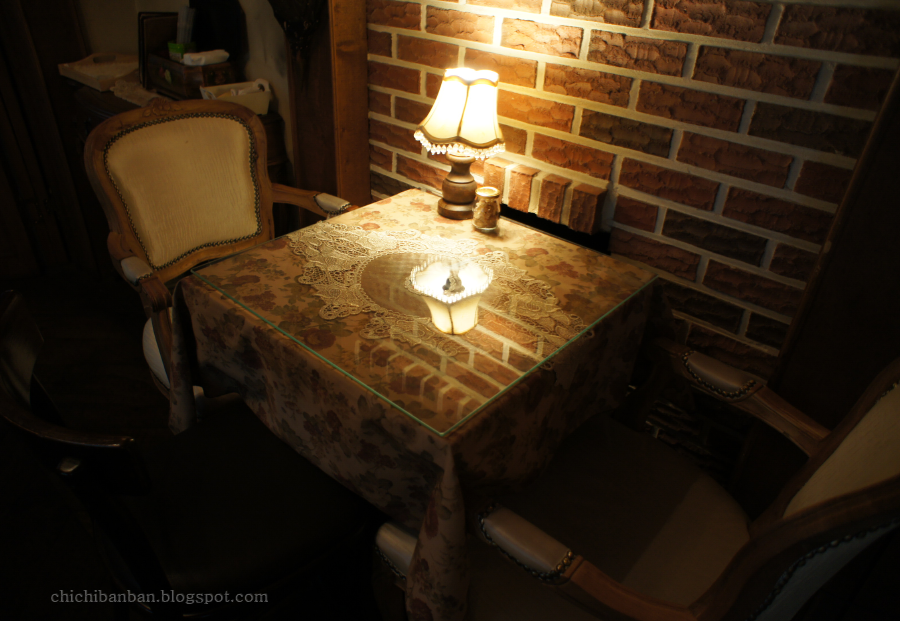 It had some nice lace detail under the glass: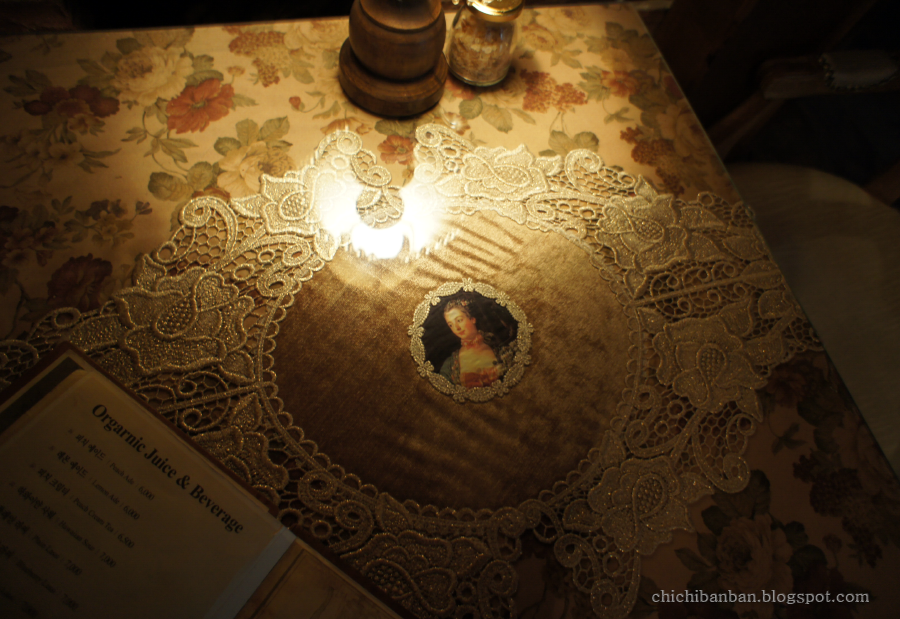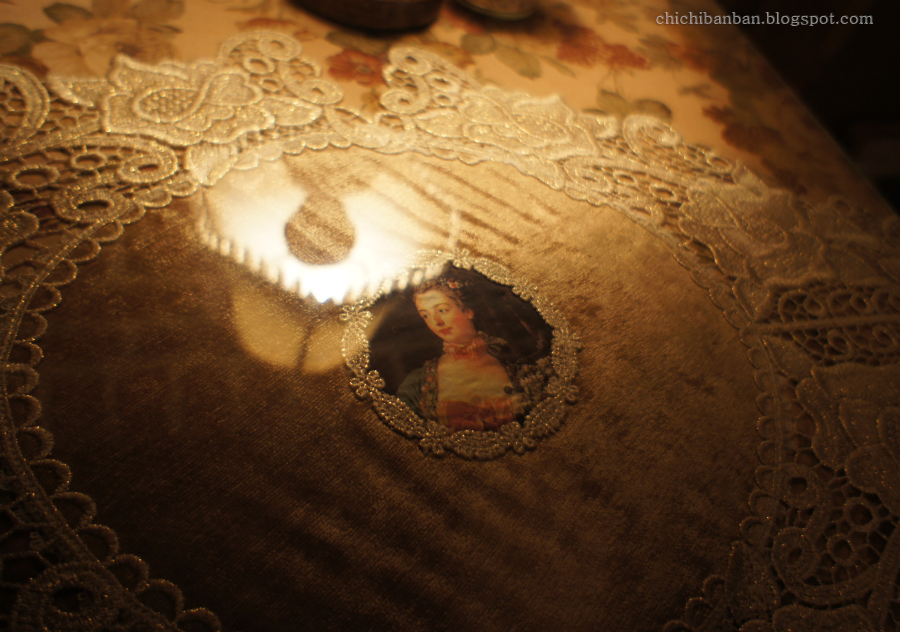 My drink! I think it's called Green Tea Smoothie? Either way, it's really good! Actually, a lot of the drinks at this café are good. :) And they come with cookies:
There's usually a lot of people around. I've seen people (including myself) get turned away because all the tables are taken!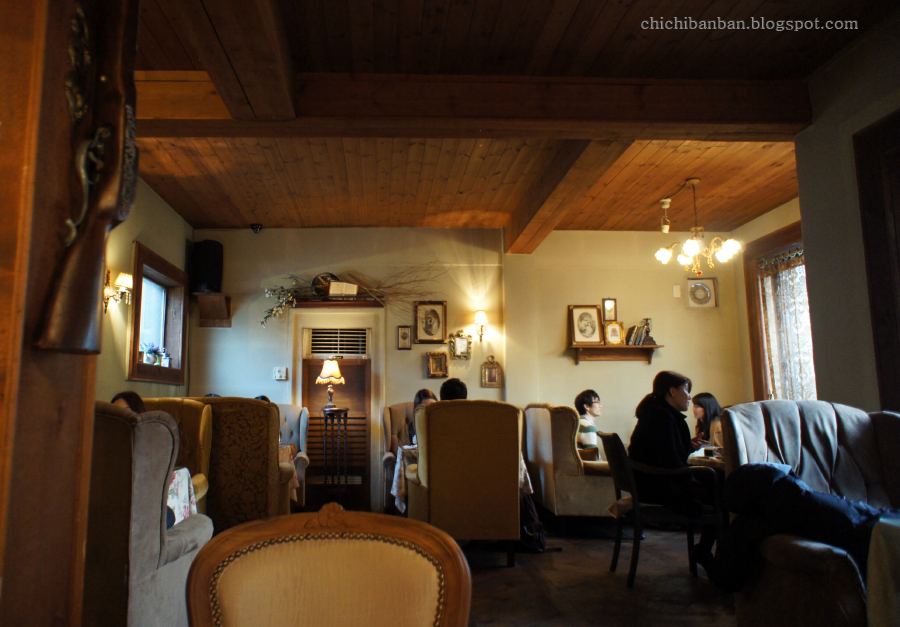 The other time I came I ordered milk tea. I could be wrong, but I think this was chai milk tea: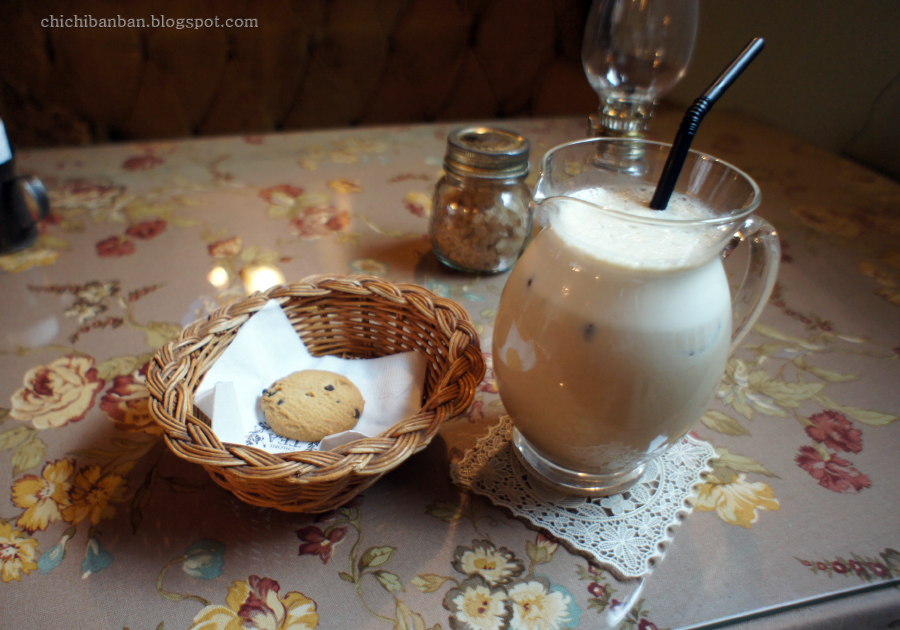 It comes in a large pitcher, and it's oh so good~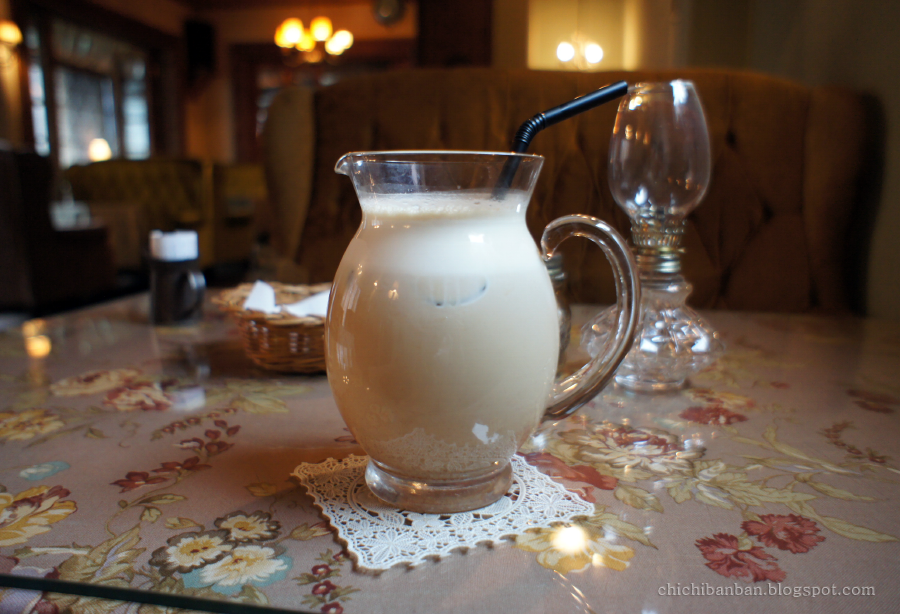 And last but not least, what I believe is caramel macchiato: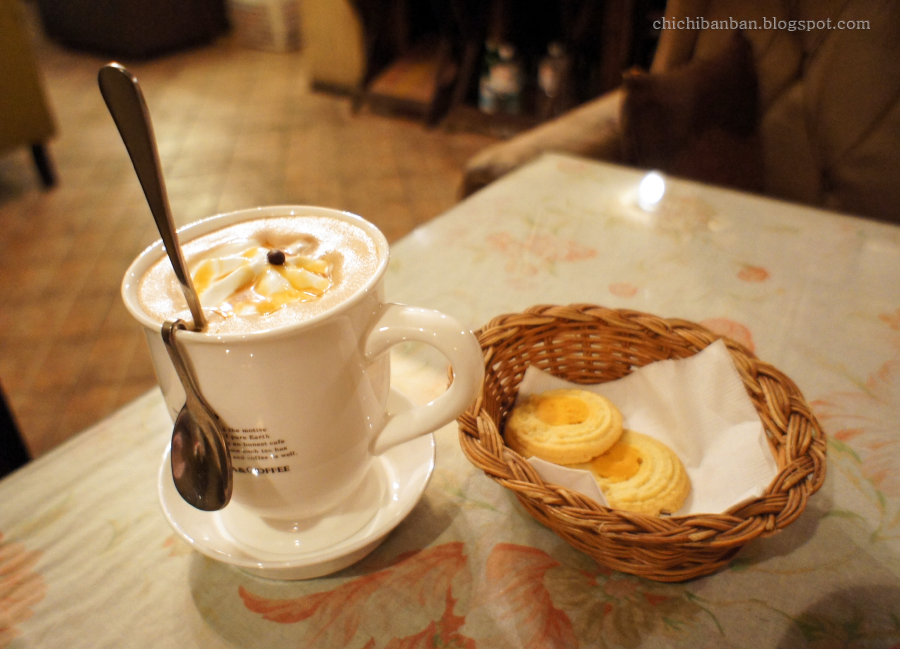 Did you notice the spoon? How nifty is that?!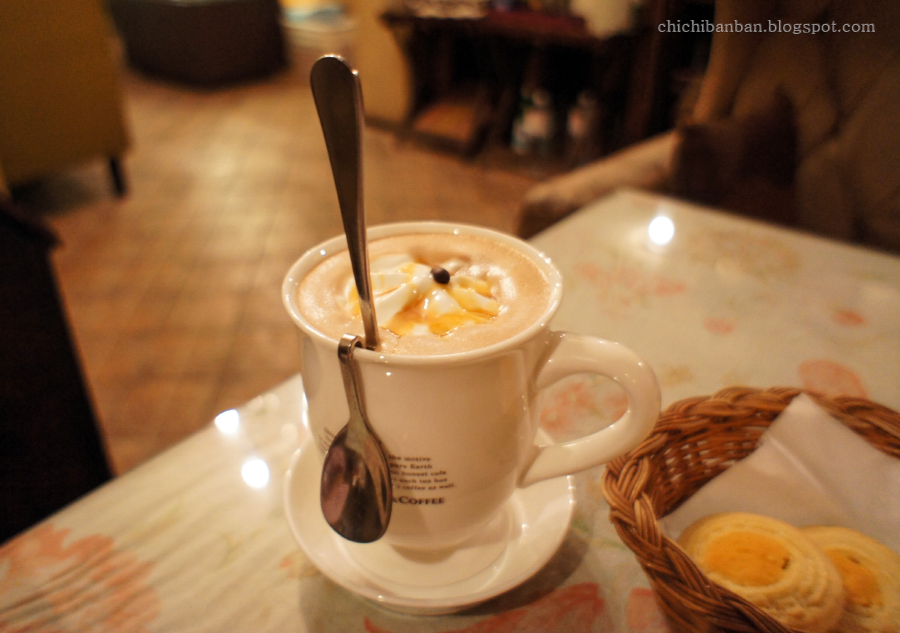 When they bring you your drinks, they will also bring your receipt rolled like this:
And when you leave, you bring this receipt with you to the counter to pay.
I hope you enjoyed this! This is the café I went to most in Korea. I'm a sucker for old English style. I will say that it's pretty crowded, though. You probably noticed that the seating arrangement is quite dense, and that kind of hinders the noble Englishwoman fantasy.
I also like this café because the workers are all friendly!
Well, except for one d-bag...He was the kind of person that treats foreigners as free tutors and/or practice for English, of which he was clearly confident about. (Hear me out; it's true that there are people like this!) When I asked for a blanket he even
interrupted me midsentence
to insist that I speak English instead. Gosh, my Korean isn't even
that
bad. Funny thing, when I did speak English he couldn't understand for the life of him! I must have said "blanket" close to 10 times. I then reverted back to Korean and lo and behold, the girl behind the counter understood clearly. "She's asking for a blanket!" she called out while he looked on dumbfounded. Ugh, his pomposity made me want to mock him when he so confidently announced, "Please have a good time with your coffee" instead of just saying "맛있게 드세요." *end rant*
So if you, like me, don't appreciate being treated as English practice, look out for him—no wait, he'll be looking out for you! ;)
Here's the address:
Name: Cafe Chloris (Sinchon main branch) 클로리스 신촌본점

Address: 서울특별시 서대문구 창천동 13-35
Alternate form: 서울특별시 서대문구 연세로4길 38


Click here for map.
So what do you think of this décor style? Would you want to go to this café? And if you liked it, comment which part you liked best!