Sun protection is crucial.
Crucial
, I tell you! Sun damage causes: wrinkling, aging, skin thickening, brown discolorations, visible and/or broken capillaries, and skin cancer. It's a huge reason why skin ages in the first place. People's hands and necks often look older than their faces, and the difference is in the amount of sun protection. We put SPF-containing products on our face, but we often neglect our hands and necks, and that causes them to age first.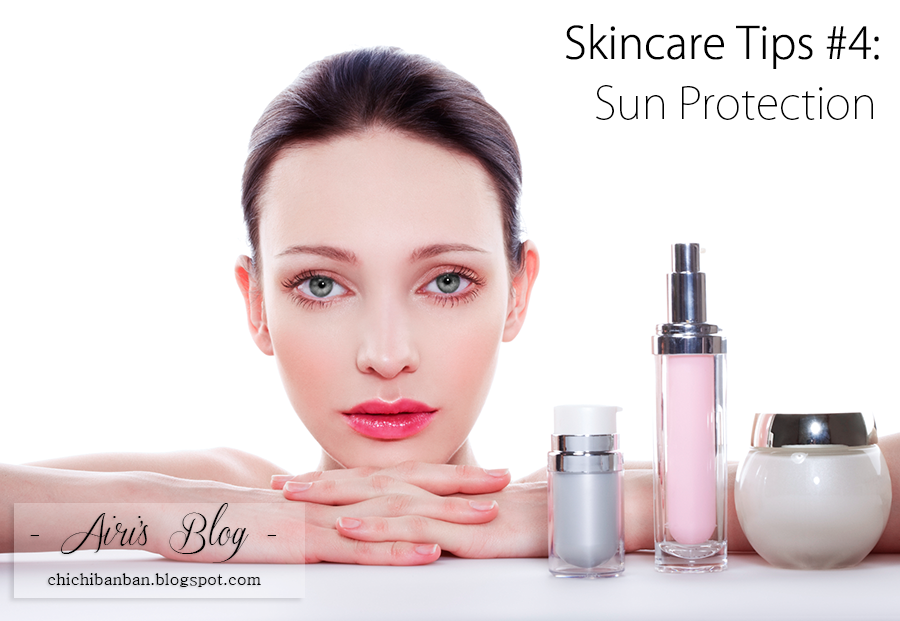 Types of UV Rays:
UVA and UVB are the two types we need to concern ourselves with:
1. UVB:

Causes sunburn
Causes gene mutation, which then causes abnormal growth patterns
Largely locked by the ozone layer (except, of course, where the ozone layer has a hole--Australia)
Also blocked by glass windows


2. UVA:

Causes tanning and free-radical damage
This damage begins as soon as your skin sees daylight, not just after getting a deep tan.
Not blocked by windows, the ozone layer, or even clouds
Extra Notes:
UV radiation is strongest between 10am – 2pm.


Wearing a hat or staying in the shade is only helpful to block the sunlight hitting you from directly above. UV rays still reflect off of other surfaces (cement, snow, grass, water), which will then attack your skin from below.


Darker skin (brown melanin) is less prone to skin cancer than light skin tones (yellow and red melanin). However, the risk of sun damage (i.e. wrinkles) is still there.
All about Sunscreen
The meaning of SPF:
SPF does not mean
amount
of protection. It means
duration of tolerance
. It only tells you how long you can stay in the sun without being sunburnt. Let's take SPF 25, for example, a very common SPF in cosmetics. Wearing an SPF 25 means you can stay out in the sun 25 times longer than normal without getting sunburnt.
In other words, a high SPF only means that you can stay in the sun longer without being sunburnt (compared to with a low SPF.) It doesn't mean better protection, though, only
longer
protection. You are never 100% protected from all UV rays at any given point. You can be 98% protected, though! Although SPF doesn't directly refer to the quality or amount of protection, it turns out that a higher SPF does indeed correlate with a higher amount of protection:
| SPF | UV Protection |
| --- | --- |
| 2 | 50% |
| 4 | 70% |
| 8 | 80% |
| 15 | 94% |
| 30 | 97% |
| 50 | 98% |
| 70 | 98% |
As you can see, it levels off after SPF15. It's also important to note that 2% of UV rays are still enough to trigger a tanning response.
Another important thing to note about SPF is that we're talking about
sunburn
, not sun tanning. Remember how we talked about UVA and UVB above, and how sunburn and tanning are caused by different UV rays? (Sunburn is caused by UVB while tanning is caused by UVA.) This is the very reason why you can wear sunscreen but still get tan. SPF only addresses sunburn, and this means it only refers to blocking UVB radiation, not UVA.
Now that doesn't mean that sunscreens don't prevent tanning at all. It's just that there is no SPF-like system for UVA blockage (tanning) like there is with UVB (sunburn.) There are ingredients that prevent tanning (by blocking UVA), though, and all we can do is look out for the following:
Titanium dioxide
Zinc oxide
Tinosorb
Ecamsul (aka Mexoryl)
Avobenzone (aka butyl methoxydibenzyl methane)
How to apply sunscreen properly:
Liberally. Thick layers. Applying it thinly or diluting it lowers the SPF value. The SPF value written on the package is under the premise that the sunscreen is applied liberally. (This is something to consider if your sole sunscreen is the SPF in your makeup. Unless you pack on the foundation and/or pressed powder, the sun protection may not be adequate.) Sunscreen should also be reapplied after swimming, sweating, or even after washing your hands.
High SPF sunscreens do contain a higher concentration of sunscreen ingredients, which can offset the issue of not applying liberally enough. However, more sunscreen ingredients also means more potential irritation.
Good sunscreen ingredients to look out for:
Titanium dioxide and zinc oxide. These two ingredients are the least likely to cause irritation and/or an allergic reaction. They also block out a good portion of the UVA spectrum (the tanning rays.) The downside of these is that they leave a white cast, as well as block the flow of oil from your pores. One option is to look for sunscreens that use multiple active sunblock ingredients instead of only titanium dioxide. This will reduce the risk of clogging pores.
Water-resistant sunscreens:
By definition, water-resistant sunscreens are able to maintain the same SPF even after being immersed in water for 40 minutes. "Very water-resistant" means it lasts for 80 minutes: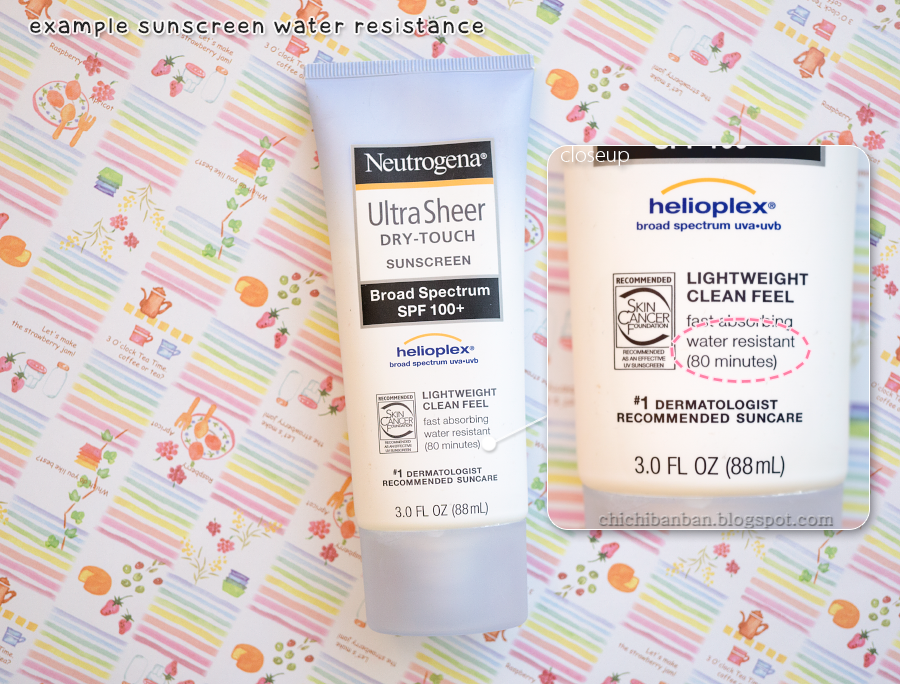 Water resistance is beneficial for exercise or swimming; however, the acrylates in these water-resistant formulas can look icky under makeup, and hence not ideal for everyday wear: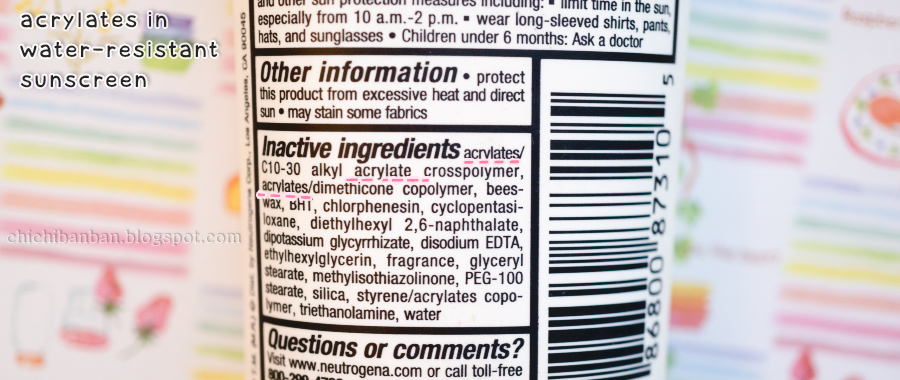 Sensitivity caused by using AHAs, BHAs, and tretinoin:
(AHAs and BHAs stand for Alpha hydroxy acid and Beta hydroxy acid, both of which are categories of weak acids that gently exfoliate your skin. Salicylic acid is a common one often found in cleansers, for example.)
These skincare products are known to make your skin more sensitive to sun. Why? Simply because these products exfoliate your top layer off. Your top layer of skin is already thicker and wrinkled from sun damage, which is a sort of protection in and of itself (although very weak.) By exfoliating this off to reveal fresh, new skin underneath, your skin is now more vulnerable to sun damage. Because of this, it is especially important to have sun protection when using any of these products.
Airi's Notes:
There's so much emphasis placed on moisture and anti-aging that we overlook the importance of sun protection, so we need to remind ourselves every day. It's not even about having pale skin, it's about having
healthy
skin.
Sunscreens are gross, I know. The texture is tacky and it doesn't sit well with makeup. But there are sunscreens with nice textures out there. The very same effort we spend on finding a good serum we should also spend on finding a good sunscreen, one with a nice texture that we won't hesitate to use daily. Though in my case, I'm also a sunscreen + hide-under-my-jacket type of girl XD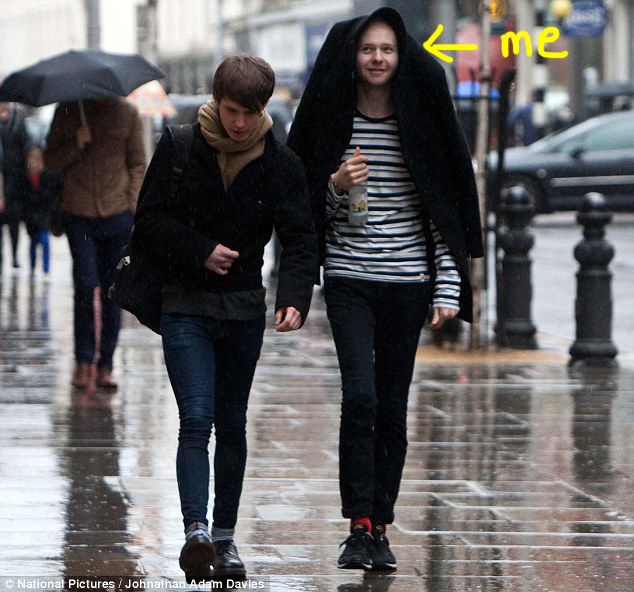 Whew that was long! But here's to healthy, happy skin!